Another of Trish Morrison's lovely G2 Pink Horror in a rich deep pink (achieved with Warlock Purple). Makes a nice change from the pale schemes I've seemed to favour with the majority of the Pink Horrors so far.
The huge hands just remind me of the video to Everlong by the Foo Fighters, where Dave Grohl grows big hands to protect his lady.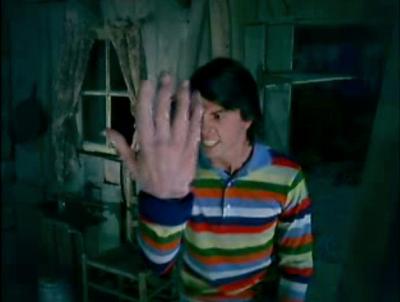 How many models are there for Project Change? Well, it's difficult to count, I've broken down the models into the following categories:
G1 Daemons
G2 Daemons
G3 Daemons
G4 Daemons
Rogue Trader Renegades
Thousand Sons
Fantasy Champions
Beastmen
Dragons
Non-28mm (Epic, Warmaster, Man O' War)
Collectibles (e.g. Black Library diorama with Madox)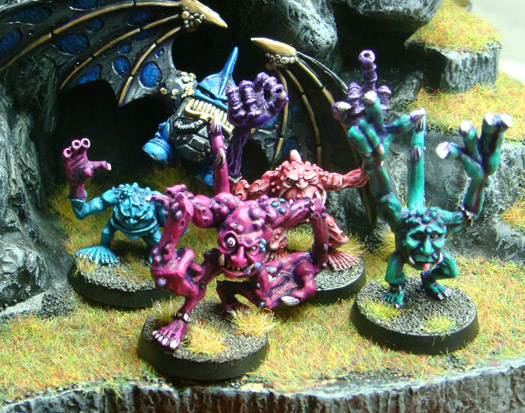 So, just focussing on the G2 Daemons there are 88 possible models you can make:
1 G2 Lord of Change
13 G2 Pink Horrors
Pink Horror Champion, Pink Horror Standard, Pink Horror Musician, 2 one-piece Pink Horrors, 2 Pink Horrors with 4 tail options

10 G2 Blue Horrors
2 one-piece Blue Horrors, 2 Blue Horrors with 4 tail options
64 G2 Flamers
4 bodies with 4 right arm options and 4 left arm options
Which is a lot of figures.  The Flamers really break it as there are 64 ways of assembling the 12 components.  I think I'll try collecting one of every component, else I'll go insane.  Doubly so as I've not yet worked out how many ways there are of assembling the plastic G4 Pink Horrors.