More copying the standard studio schemes. This time, it's Deneghra, the most diminutive of the Cryx casters. She was bought as a present, and so she went straight to the front of the Cryx painting queue.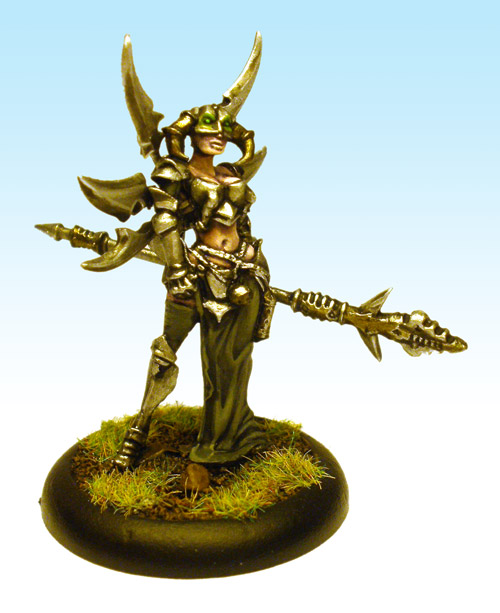 This was my second attempt at painting the girl. The first time I used the Vallejo Game Color (eurgh american spelling) silvers, and it came out truly awful. They had that glittery finish that put me in mind of fairground bumper cars. I got sulky, and threw her in my undersink Nitromors jar. For my second attempt I wet out and bought some of the GW metals – I must say, (price aside) they're the best metals on the market, and produce a gorgeously even finish.
Only problem with Deneghra is she's, well, 'meh'. She's not a 10-foot tall steampunk skellington, or a zombie pirate dragon – she's just an unimposing little girl with very straightforward colours. Maybe in time I'll do another in a more striking scheme, with marble green armour plates, and lots of runic tattoos.
I do like the way her skin came out. I wanted her to stand out from all the green/grey Thralls, and look healthy and alive, but still eeeeevil.