My Cryx. Curis' Cryx. They came from the Crypt. Curis' Crypt Cryx. Crikey.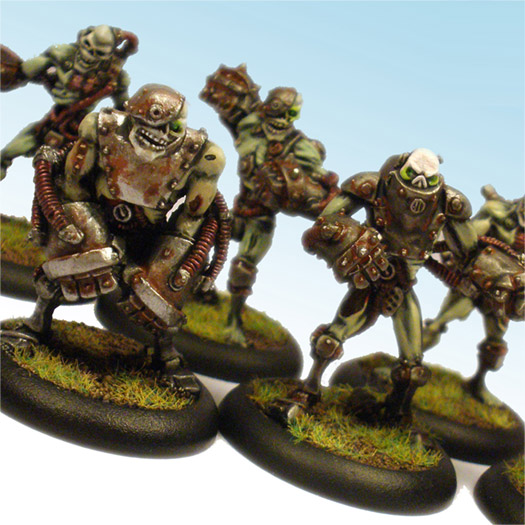 The one thing that as a stumbling block in Warmachine for ages was how to indelibly stamp the models as mine. I wanted Cryx with a twist, something uniquely mine. Problem was, I knew too little about Warmachine to ever do conversions or alternative paint schemes that actually fitted. I'd be converting what I thought was woo-awesome, only to find that those conversant in the PP fluff would roll their eyes and mutter. It would be the equivalent of a child at GW sticking a Terminator in the cockpit of an Eldar Warwalker and making hands for it out of screws. It looks good, but only to them in their painful nativity.
So eventually, I jacked it all in and settled on copying studio paint schemes. Nice and simple, no thinking required, and the perfect way to break out of my rut where I just borrow techniques from previous models.
It also fits nicely with (what I perceive) is the PP mentality of collecting the figures as-is, rather than making them your own. The 40K Universe is sufficiently big to wedge 1,000 Marines of your own devising in. The PP Universe is a teeny tiny thing where there's not as much space to do you own thing.
Good or bad? Well, it got me to take those hesitant first steps towards collecting a whole force.