Following a tip-off from Tears of Envy I made a trip to Warhammer World this weekend – Bugman's was selling vintage Games Workshop boardgames – Judge Dredd (1982), Fury of Dracula (1987) and Kerrunch (1991), which I snaffled up.

Back in the early '90s, Games Workshop tried appealing to younger generations by releasing simple and self-contained boardgames. Their experiments with the then-revolutionary idea of making wargaming figures out of plastic meant they'd got child-friendly products that didn't need assembly, or give you colica Pictonum. The rules were badly designed and largely random. All in all, a lot like Dreadfleet.
Kerrunch was a one of a series of four games: Ultra Marines (where you played as, erm, Space Wolves battling the Blood Angels); Space Fleet (spaceship comabt); and Mighty Warriors (which reused the Heroquest concept and models).
Blood Bowl Miniatures
Kerrunch came out after Blood Bowl second edition, and reuses the Orc and Human miniatures from it. They're joined by the Elf and Dwarf plastics from the Dungeonbowl supplement. And they're all in lovely bright colours.
It appears the colours varied, I've seen Orcs in blue, Humans in green, Elves in yellow. Though I'm not sure which colours are from Blood Bowl, Dungeonbowl and Kerrunch. Do you?
The 6-piece card jigsaw pitch is rehashed from 1st edition Blood Bowl, only on a much thinner card – pictures when I've dug out my 1st edition Blood Bopwl pitch to compare it to.
The rules fit on a single sheet of paper, and the miniatures are brightly-coloured – two signs it's aimed squarely at kids. The central game mechanic firmly establishes the pediatric appeal – throwing the dice into the lid. The box is also a component.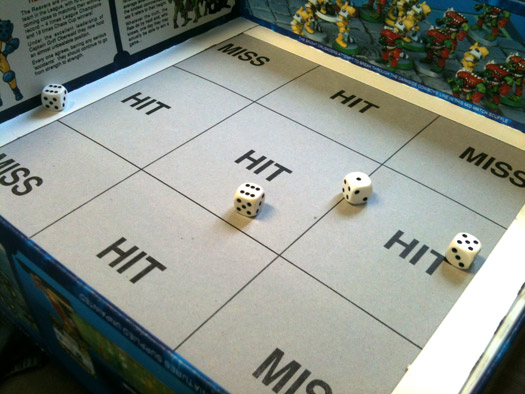 People say 40K has dumbed-down recently – but I have yet to see it with box lid mechanics. I look forward to playing this for kitsch value, both with adult gamers and genuine eight year olds.