I recently painted a Cryx Battlebox, and it was my first experience of the new Warmachine plastic/resin things they're moving to. It was interesting to compare them with Games Workshop's Finecast and Mantic's resins.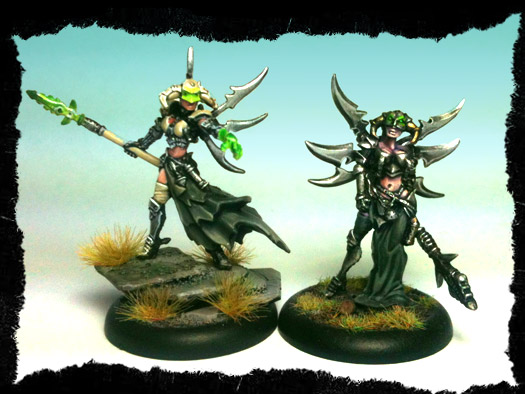 I was originally going to paint the Warwitch to match my variant Deneghra – most of the armour in silvers and golds. But with the benefit of hindsight I thought it looked far too drab. I opted for crisp clean silver and then added in P3 Jack Bone to the helmet, shoulder pads and boob-plates to help break up the appearence. That wasn't enough, so I amped up the P3 Necrotic Green on her staff and Scourge-casting hand.
Compared to Privateer's metal models, I think their new plastic offerings have less crisp and paintable detail. There's a few soft edges (look at the roundedness on her rack blades) and areas that seem a little half-baked that I had to correct with clever painting. Do you have have experience with Privateer's stuff?