Yellow is an interesting colour. Doubly so when shaded with the gaudy Warlock Purple. Would you experiment with that combination? I have. Here's a 1990 Epic Tzeentch Flamer adopting the guise of Maynard Flux's Daemonic Familiar.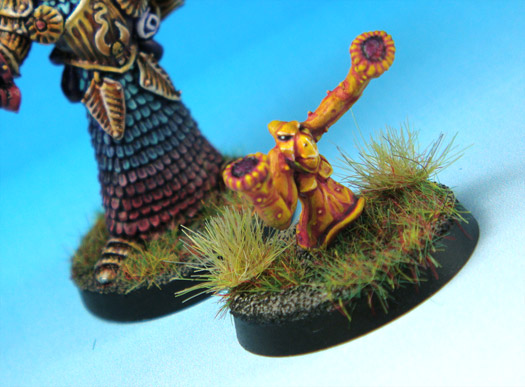 Interesting? Lurid? Psychedlic? Well, I'm a little glad I didn't do it on a larger model. Maybe a more sophisticated approach is called for. And now I realise that going forward I should avoid painting any of Tzeentch's bird minions in yellows to avoid comparisons with Sesame Street.
I noted with the Epic scale Pink Horror that this generation of Chaos models were laughably out of scale. Let me explain this a little more. Epic is nominally a 6mm wargame, meaning the average trooper measures in at about 6mm. Here's the Epic Flamer next to an Epic Dark Angel Hunter.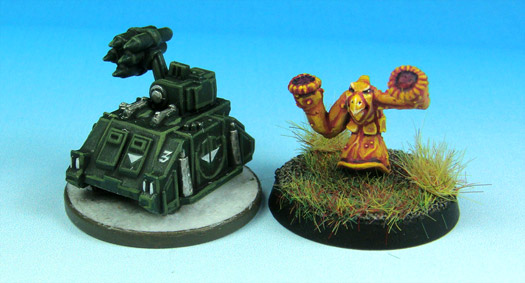 Why this hideous scale fail?
Theory One – the Epic Chaos Daemons were done at a time when Games Workshop were simplifying the amount of detailing on their Epic-scale models for ease of mass production. This meant chunkier details, less details, and bigger models (all the better to put big chunky details on).
Theory Two – Epic is out of scale with itself. People complain about not being able to fit ten Marines inside a Rhino in 40K. Well, try putting thirty 6mm Marines inside a Thunderhawk only 10mm long. Epic models were more abstract counters representing the troop types present on the battlefield, rather than being scale models.
Theory Three – Chaos Daemons should be this big all the time, it's the 28mm ones that are scaled wrong.
Well, anyway, Games Workshop corrected it in 1998 with the Epic 40K plastic Chaos sprues. Here's a comparison shot.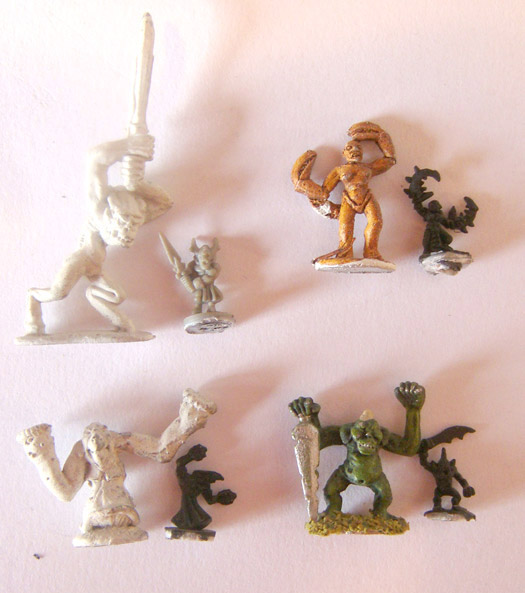 This is one of the few examples of Games Workshop's models getting smaller over time.