I love Ork artillery.  As a kid they were the fullest blisters on the shelves, and they contained an alluring wonder – what did those assortment of parts look like when assembled?
Well, I've got a squadron of converted oldskool Smasha Guns (count as Zzap Gunz) in my Ork/Stealer Hybrid army. They're great fun – they fire a traktor beam which picks up its target, then drops it on its friends, much to the krew's amusement.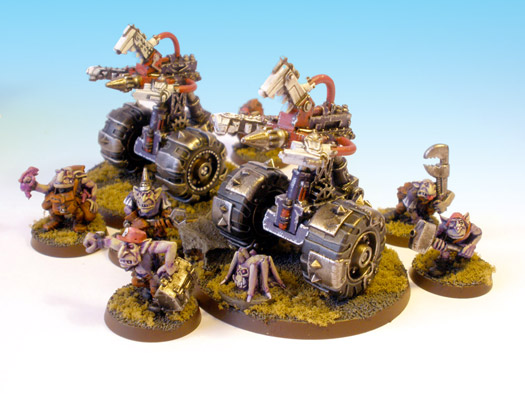 The krewz aren't converted (I figured they're crewed by very late generation grot/stealer hybridz) – but the guns are.  They've had their hideous old Fantasy-style cartwheels replaced with modern chunky Ork tyres (from the Trukk I think).  Plus, to make them work with the Genestealer theme, I've added a third claw.  This was simply done by cutting an old Smasha Gun in half.
Here's the classic Studio Smasha Gun by way of comparison, and also for a bit of retro Orkiness.