This is Wailer – Pink Horror of Tzeentch. Another of the first generation of orkoid Pink Horrors by the talented Kev Adams. He's unusual that he's got a very sullen face more befitting a Blue Horror.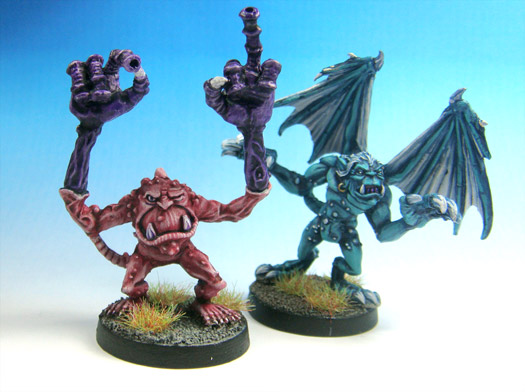 His arms are awfully gnarly and have lots of texture I can only describe as 'unintentionally crumbly'. It's odd, as the main body is nice and crisp and a joy to paint. Meh.
He's accompanied by a second of my iridescent Harpies, which aren't really Tzeenthcian so don't really count towards Project Change.
My collection of Tzeentchian artefacts is growing like some sort obscene shrine, and now it's even jumped media. Here's a piece Tony Ackland artwork I bought.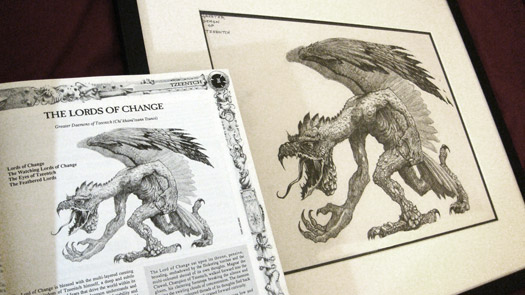 This is the Lord of Change that appeared in Realm of Chaos: the Lost and the Damned. Yep, it's the original (not a print or reproduction), as you can see the pencils where Mr. Ackland changed the pose.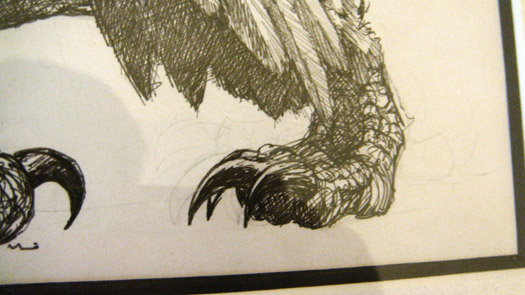 My friends have recently started referring to my pad as the Didsbury Warhammer Museum because I take such fetishistic pleasure in collecting and displaying all this stuff.