Grenadier Dungeons & Dragons Umber Hulk
The Umber Hulk is the iconic Dungeons & Dragons monster, a powerful tunnelling beast with the power to confuse anyone who sees all four of its eyes at once.  This confusion is a form of psychic hypnosis, rather than puzzlement over the fact it has eyes in its nostrils, and what might happen when it sneezes.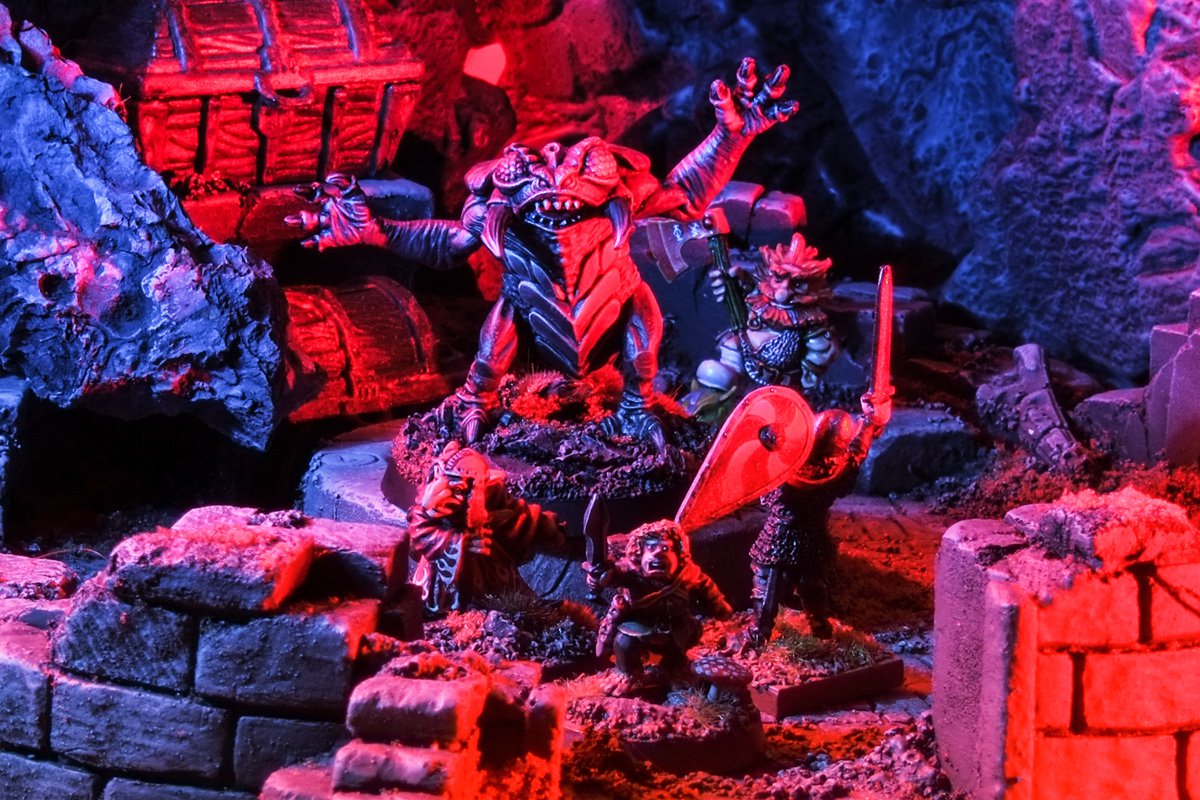 "Feckin' peg it!" squeed Ploppin the Halfling.
Such a colourful shot!  The red and blue lights echo the garish paint choices this Umber Hulk's previous owner made.  This miniature was a snip at £3 from the Oldhammer Trading Company and I celebrated by taking it to the pub that evening.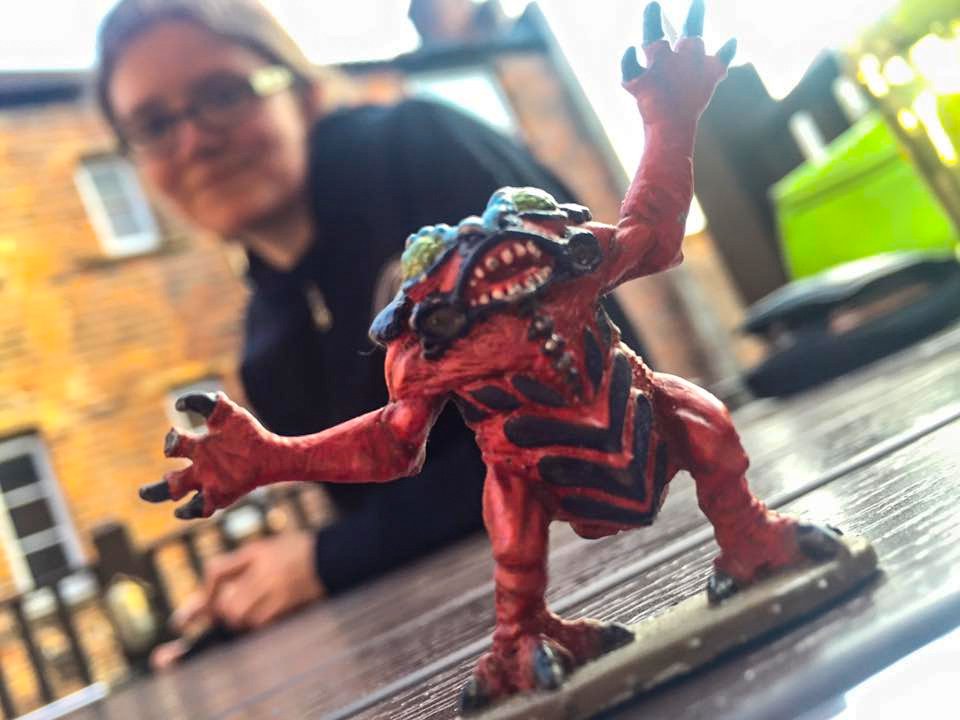 The lovable four-eyed spongmonster at the pub.
Also pictured: a Grenadier Umber Hulk.
He came missing a finger-claw, which I replaced with brass wire and putty. I also carved him new mandibles from some random Games Workshop plastic bits.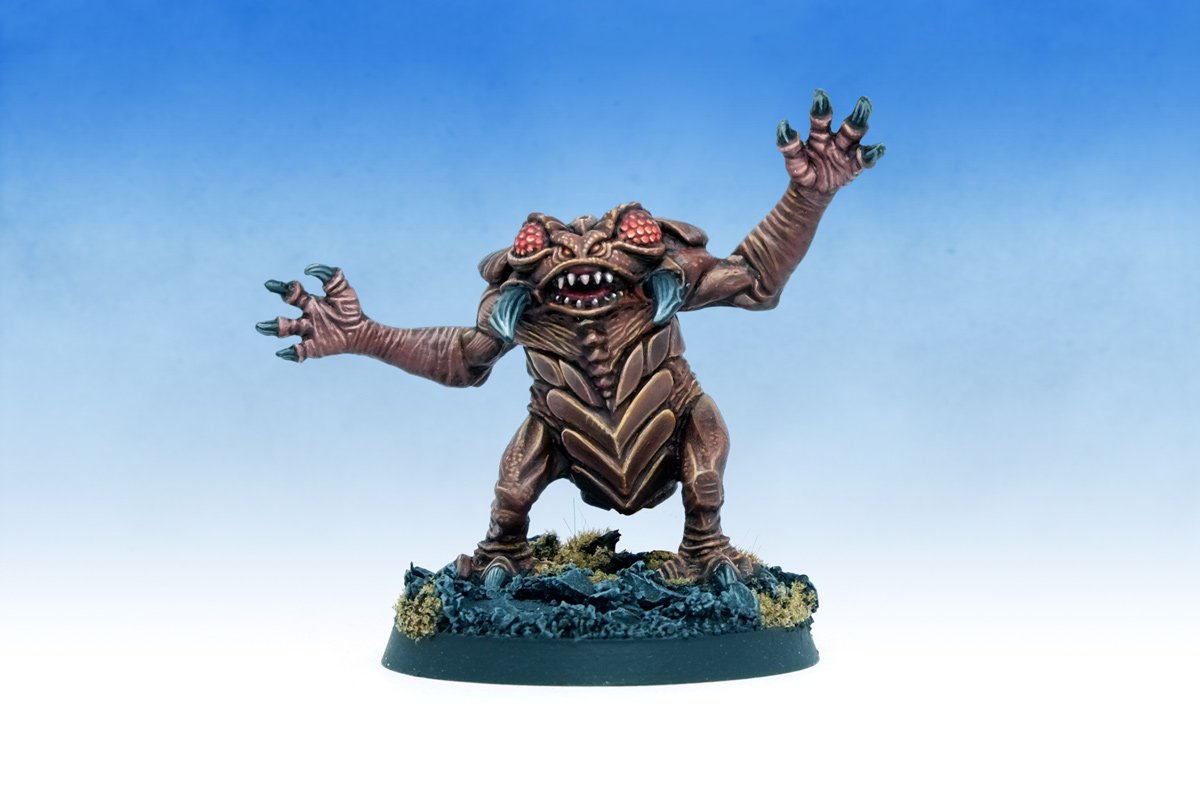 jazz hands /dʒaz handz/ noun: …
The miniature has been released by Grenadier both with and without the mandibles.  In the original catalogue, the photographer completely misinterpreted the mandibles as unicorn bits.
Grenadier held the licence for Dungeons & Dragons miniatures 1980–1982, but released all sorts of suitable figures both before and afterwards.  This is not actually an official Umber Hulk but an "Umberbulk".  It is still in production nowadays (without mandibles), via Mirliton.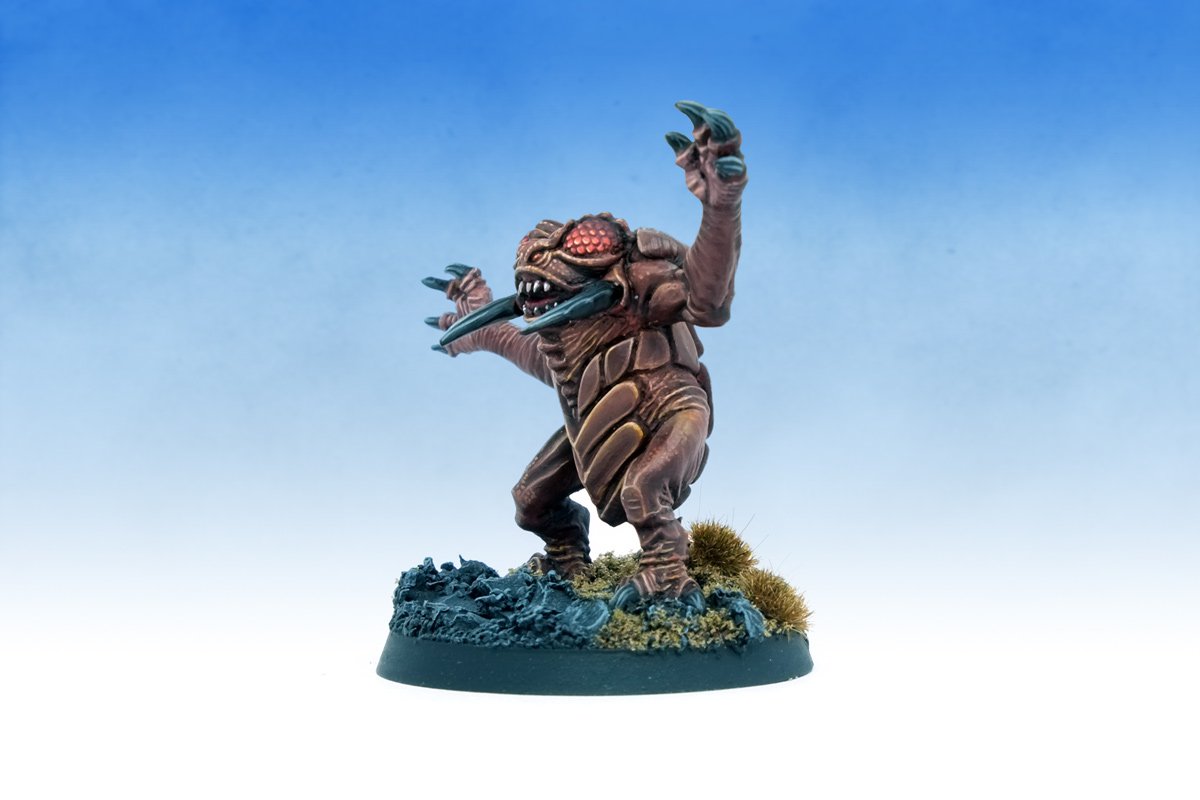 Original the Monster.  Do not steal.
The 1st edition Dungeons & Dragons Monster Manual states "Umber Hulks are black, shading to yellowish gray on the front.  Their head is gray on top, and the mandibles are ivory coloured."  But I did mine a burnt umber colour as I got hung up on the name "Umber Hulk".  In my defence the picture of them in the Monster Manual illustration is black and white.
Umber Hulks and Rogue Trader Ambulls
When writing Rogue Trader, Games Workshop anticipated players would want to use their existing figure collections, and so they slipped in a lot of the iconic Dungeons & Dragons monsters as thinly-disguised aliens.  Blink Dogs became "Astral Hounds", Beholders became "Enslavers", Umber Hulks became "Ambulls" and so on.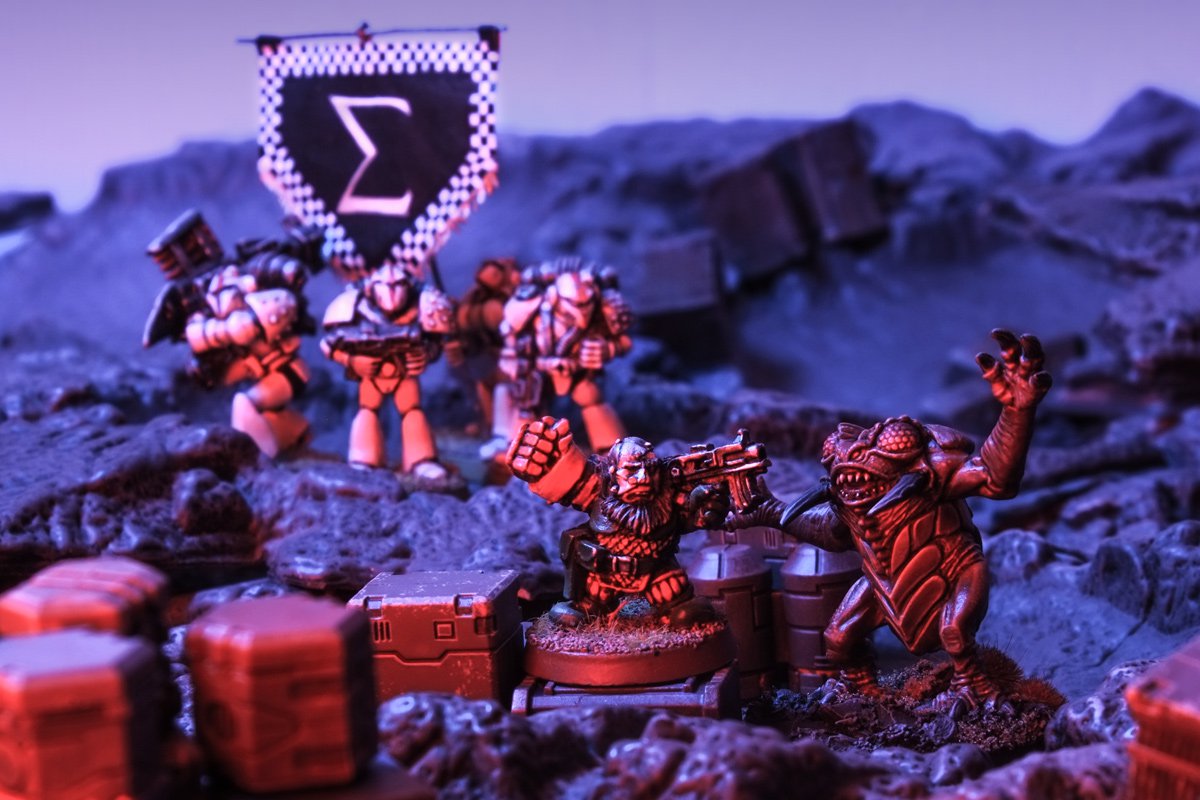 Mighty Squat Hero Warmaster Gorun fighting an Umbe…Ambull, with support from the Reckoners Space Marine chapter.
The Ambull did eventually get its own model, here's sho3box's rendition and here's Jason Fulford's.
Interestingly, having been ported into space, they got put ported back into their native fantasy setting in the form of White Dwarf 108's Terror in the Darkness scenario for Warhammer Fantasy Roleplay, where the adventurers head into a mine only to encounter Ambulls.
That's it for today!  I'll leave you with this photo that was meant to show the detail on the top of the head, but his pose looked like it was inviting tickles.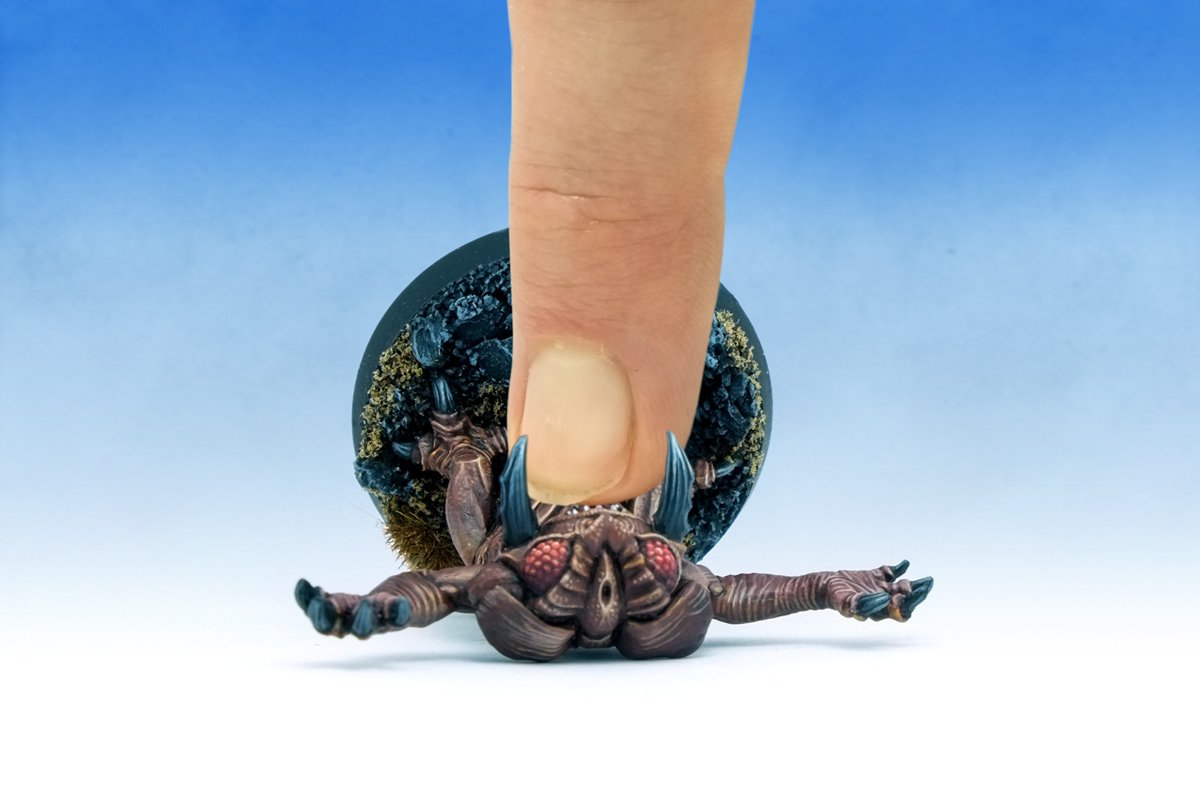 Cudgy cudgy coo cooo. Cudgy cudgy coo cooo.