Call of Cthulhu Limited Edition Detective
For two years now I've entered a turbo-niche Halloween painting competition where entrants have to paint one piece from Citadel Miniatures' insanely characterful Night Horrors or Gothic Horror ranges – the two 1980s ranges designed to support Games Workshop's Call of Cthulhu licence.  As last year I painted one half of the classic Citadel LE3 Gumshoe Detectives duo, Bogart, it seemed only right this year to paint his partner – Cagney.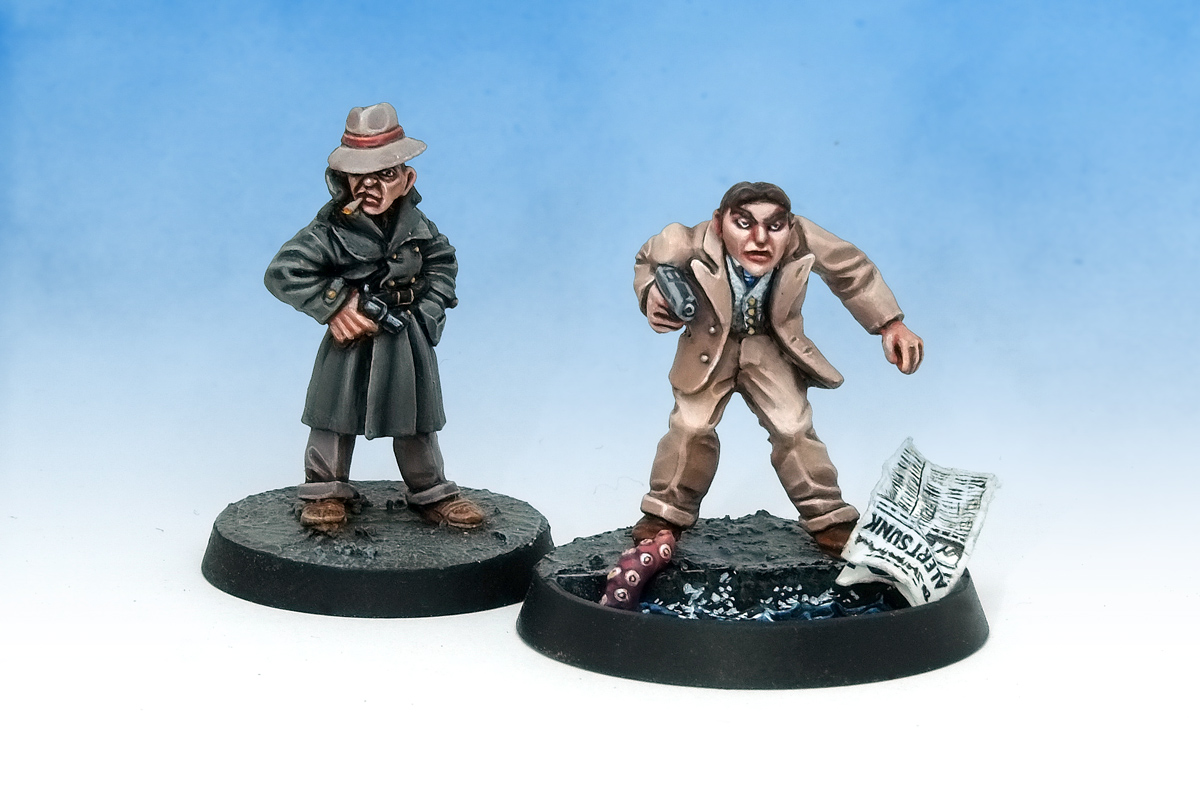 Bogart and Cagney: 50% Bogart & Bacall, 50% Cagney & Lacey.
Bogart's moody trenchcoat with upturned collar, one hand in pocket and nonchalant cigarette make him instantly recognisable as a noir detective.  However, Cagney was very much a a man in a plain suit (with a gun).  He could easily be a mistaken for wedding guest (with a gun), a 1970s newsreader (with a gun), or an estate agent (with a gun).  In order to align him with the contest's theme of REAL ULTIMATE EVIL, I thought I'd plough some effort into the base.  (Actually, an estate agent is pretty close to REAL ULTIMATE EVIL, so maybe I should have gone in that direction.)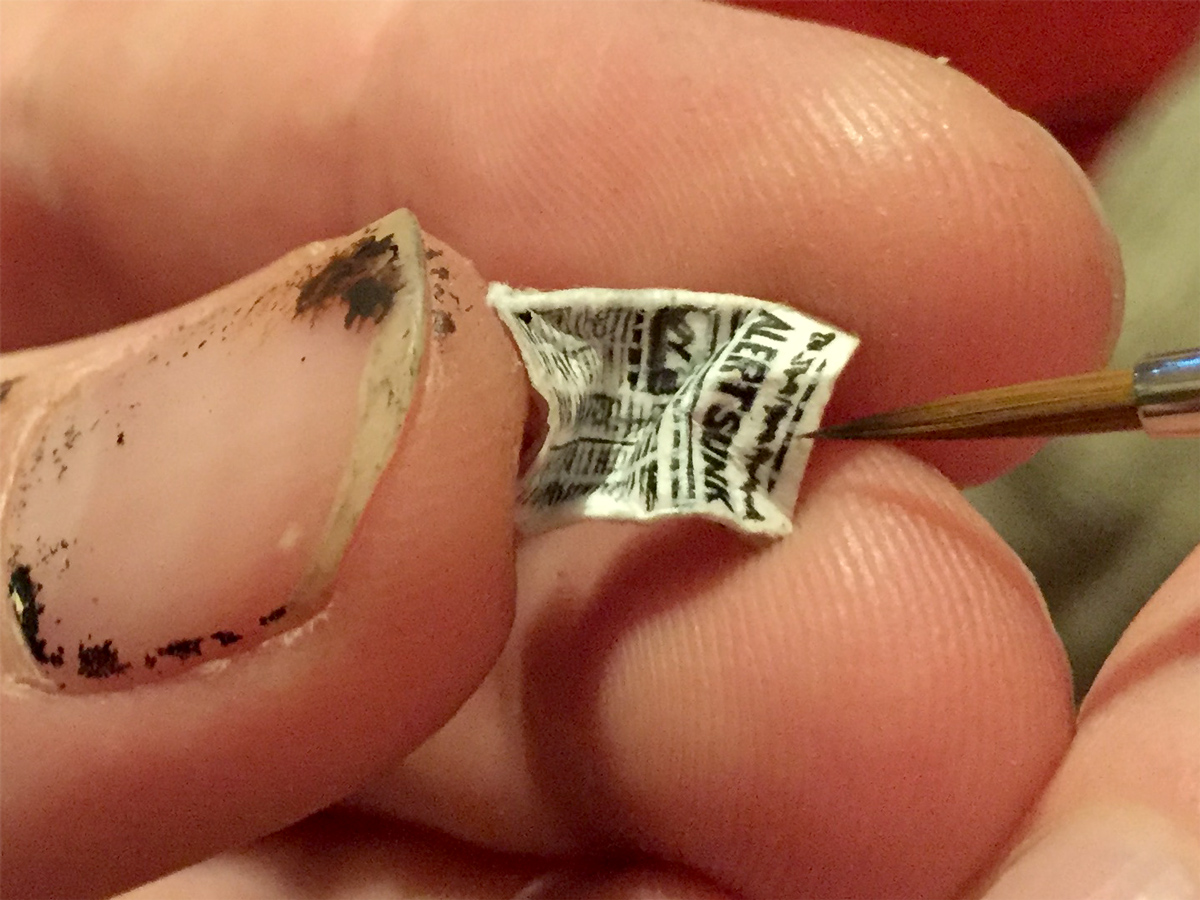 Newspapers are a shrinking industry.

The newspaper on the base is a rendition of the Sydney Morning Herald , with the he headline ALERT SUNK is a reference to the Call of Cthulhu story where Cthulhu gets his head rammed over by the steam yacht Alert.  (Thanks for coming up with that idea, Michal.)  I painted the headline as small as I could on a piece of thin card and then cut it out so I didn't have to worry about the normal freehand space constraints.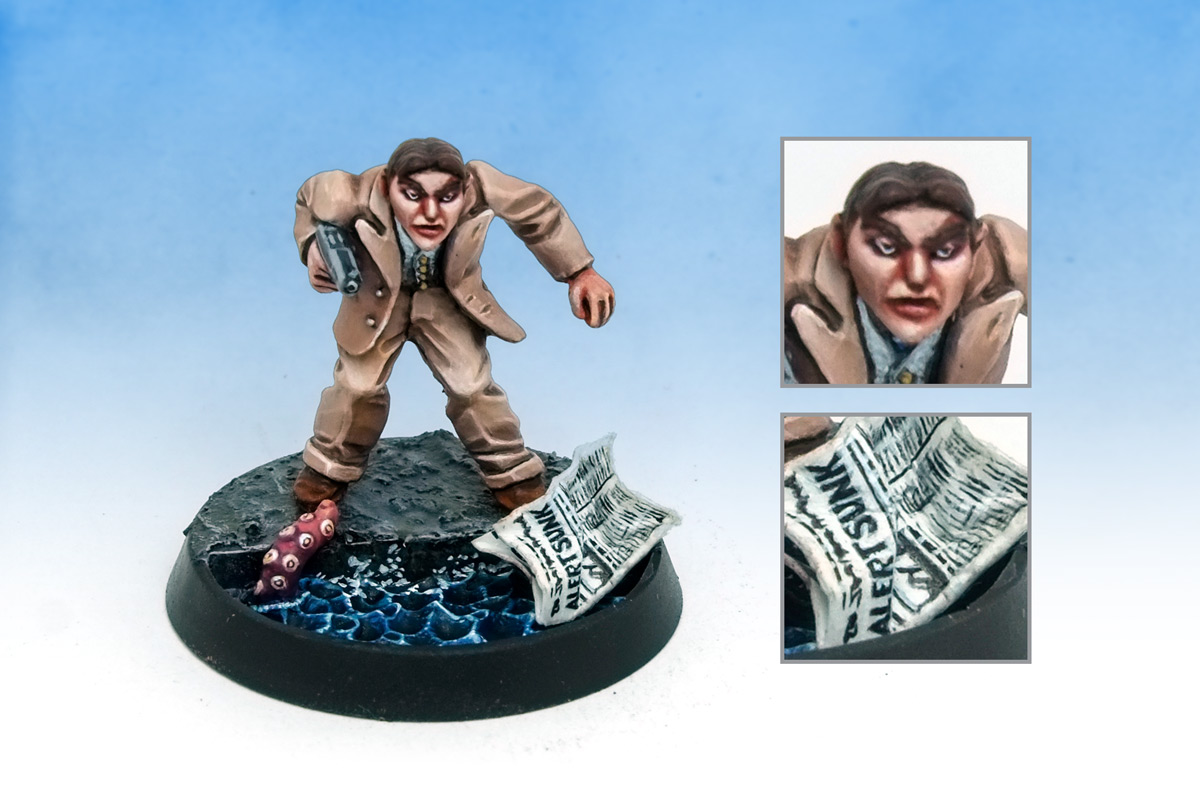 With the newspaper done, I figured I'd model the base as Sydney harbourside.  The lapping waves effect were taken from sho3box's Man O'War Nurgle fleet (thanks sho3y).  I added a Chaos Spawn tentacle to explain why Cagney's drawn his gun.  With that done, I figure he's firmly anchored in the lands of Call of Cthulhu investigator.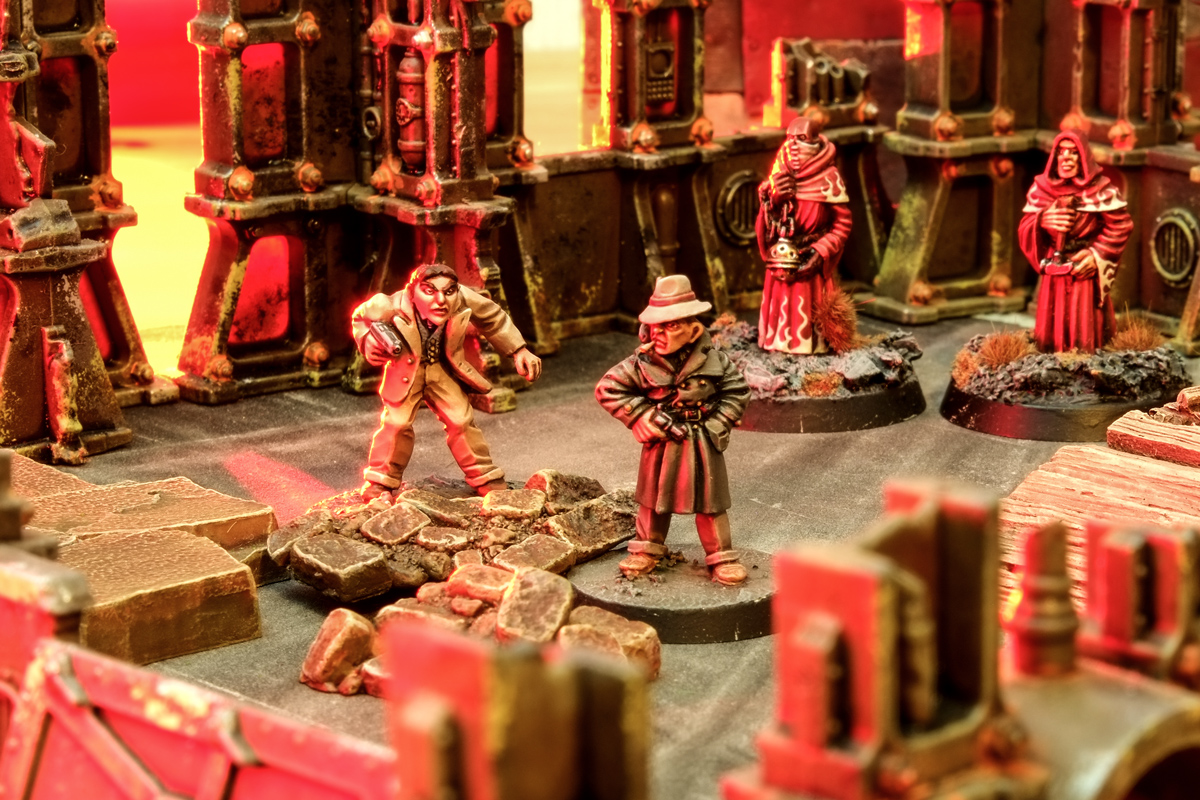 The dynamic duo at a harbourside warehouse rumoured to be focus of cult activity, while two totally normal stevedores go about their totally normal business.

The LE3 Gumshoe Detectives, while part of the Gothic Horror range, are also part of the numbered limited editions series that Citadel Miniatures pumped out in the late 1980s.  I'd like to paint up all twenty five of the codes, and am planning the LE1 Space Orc soon.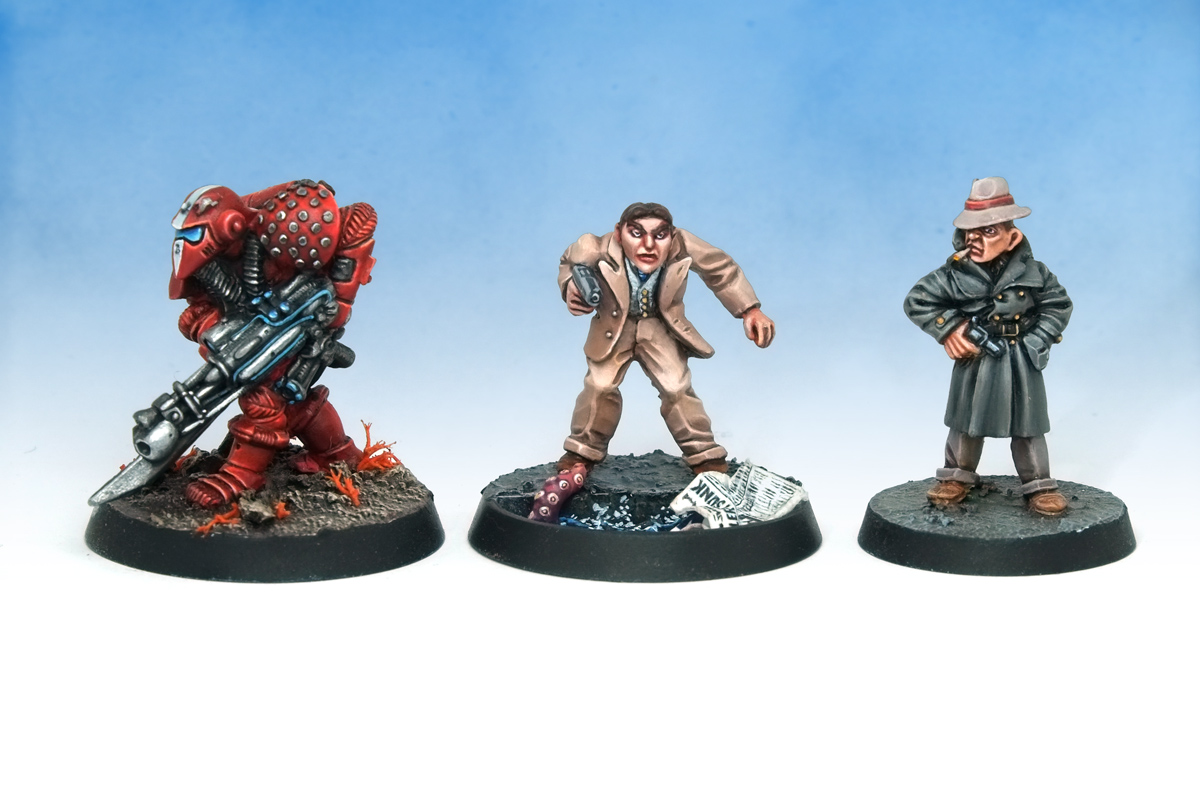 LE2 Space Marine and both LE3 Gumshoe Detectives.
Gotta think what to do for next year's entry now. The Night Horrors range and Gothic Horrors are chockful of characterful one-off miniatures.  Both detectives were resculpted at least twice for rerelease later in the Gothic Horror range, so I'll see if I can track down those.  I'm also obsessed by the Doctor Who miniatures that were slightly resculpted and released as Gothic Horror pieces too!  Roll on 2019's competition!
Cagney came first in the competition, meaning I defended my title from last year.  Congratulations to the other entrants who got their pieces finished to the deadline, and thanks to Ashley for organised the contest – why not join the group on Facebook yourself?
In related news, I won a statuette at Golden Demon this weekend, and I'll be publishing the stage-by-stage tutorial on Patreon later this week.