Choose Your Own Adventurers #5: Nebuli Tsar, Ventolin Pirate

My second model in this group painting project is the Ventolin Pirate – the one figure I actually had when I started this project!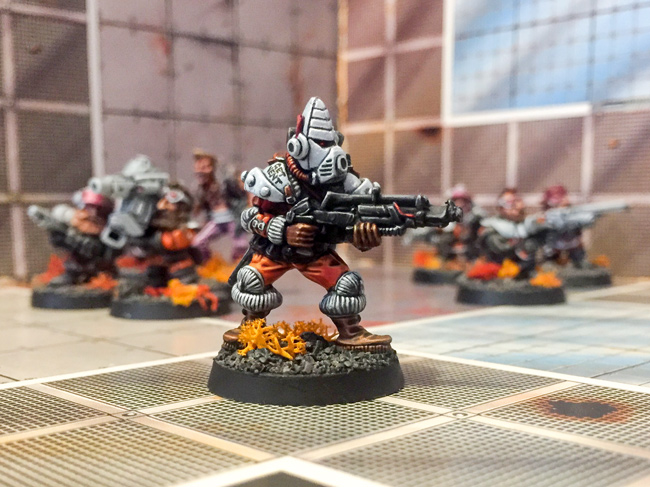 Nebuli Tsar with a Squat boarding party.
The Adventurer range is full of a great many concepts that weren't developed further in Warhammer 40,000.  The Ventolin Pirate has two pieces of background written about him. The first is "Ventolin". The second is "Pirate". Let's explore each of these in turn.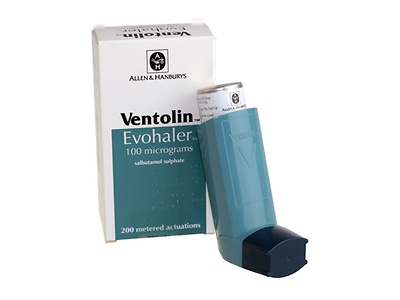 "Ventolin" is a brand of asthma medication that's been on sale in England since 1969. However, out of context it does look like the name of a planet / alien species / Imperial Army regiment / pirate warband. Presumably Tim Pollard slipped in the name as a joke as the model has a rebreather helmet. I like to think that Ventolin is actually a conehead alien race, and if I get a second figure I may convert it without its helmet on. There was a lot of scope in the early days of Rogue Trader for this type of humanoid alien race with brightly coloured skin and prosthetic rubber foreheads – just take a look at the Ironclaw Pirate range.
If you go with the "space is an ocean" concept, it must have pirates. Instead of being on boats, these Space Pirates are on board spaceships.  Instead of being in sailor garb, they're in astronaut suits. The model has vacuum-sealed cuffs where armour panels join on his arms and legs. I've avoided the stripey trews for this model, and instead he's painted to match the Furnace Valley Squats for reasons that will become more apparent in future episodes of Choose Your Own Adventurers.
The vacuum-sealed cuffs, rebreather helmet, backpack and studded shoulderpad are reminiscent of the early Rogue Trader Space Marines. I've got a theory that this miniature was one of the dozen-or-so rejected Space Marine design attempts that Bob Naismith sculpted before he and Bryan Ansell settled on the LE02 Space Marine.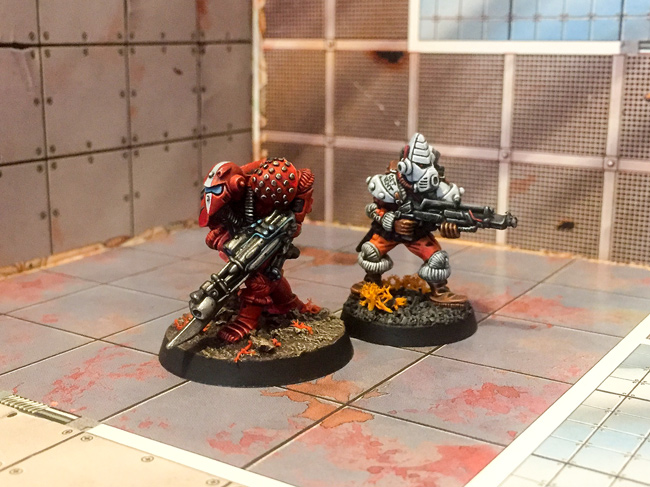 LE02 Space Marine and Ventolin Pirate.
To evoke a Rogue Trader vibe I added a freehand "GET VENT" on the shoulder pad.  The phrase was AJ's suggestion; others I considered were:
VENT THIS
VENTI VIDI VICI
VENT OUTTA SHAPE
VENT YOUR ANGER
VIVE LE VENT
I kept the other shoulderpad free for a Claw Nebula Pirate symbol in the future.
Here's a list of the other episodes in the group project:
CYAO Episode 4 – Short Jern Silvo, Ratling Cook (axiom)
CYAO Episode 3 – Garnier Wangst, Eldar Trader (sho3box)
CYOA Episode 2 – Paradox Zeeman, Pirate Captain (Curis)
CYOA Episode 1 – Obi-Wan Sherlock Clousseau, Inquisitor (axiom)