Gnollin the Gnoll – Citadel Pre-slotta Norman Great Goblin
In the lands of the north, where the black rocks stand guard against the cold sea, in the dark night that is very long, the men of the north lands sit by their great log fires and they tell a tale…
Exploring Citadel Miniatures' pre-slotta ranges is a real journey of discovery and wonder for me. My knowledge of Games Workshop's miniature ranges starts with 1991's Catalogue 1 – which only goes back as far as 1986 and not right to the beginning of Citadel history (1979) as the name suggests.  There's a great many pre-1986 miniature ranges I have no awareness of, and so I'd never painted any pre-slotta stuff until I found out about this Gnoll.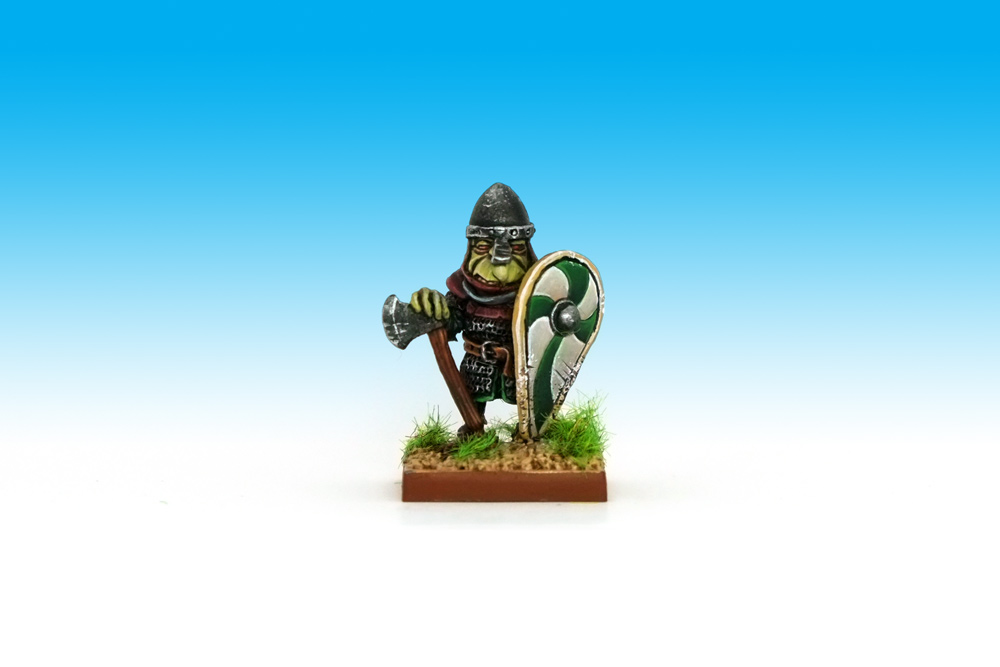 Gnollin the Gnoll.
This is no ordinary Gnoll – his nasal helm, kite shield and hafted axe mean he's Fantasy Tribes FTG14 Gnorman the Gnoll. I picked him while I was trawling the net for 1980s Citadel Normans to reinforce my army.  His giant nose and teeny legs do put me in mind of Noggin the Nog.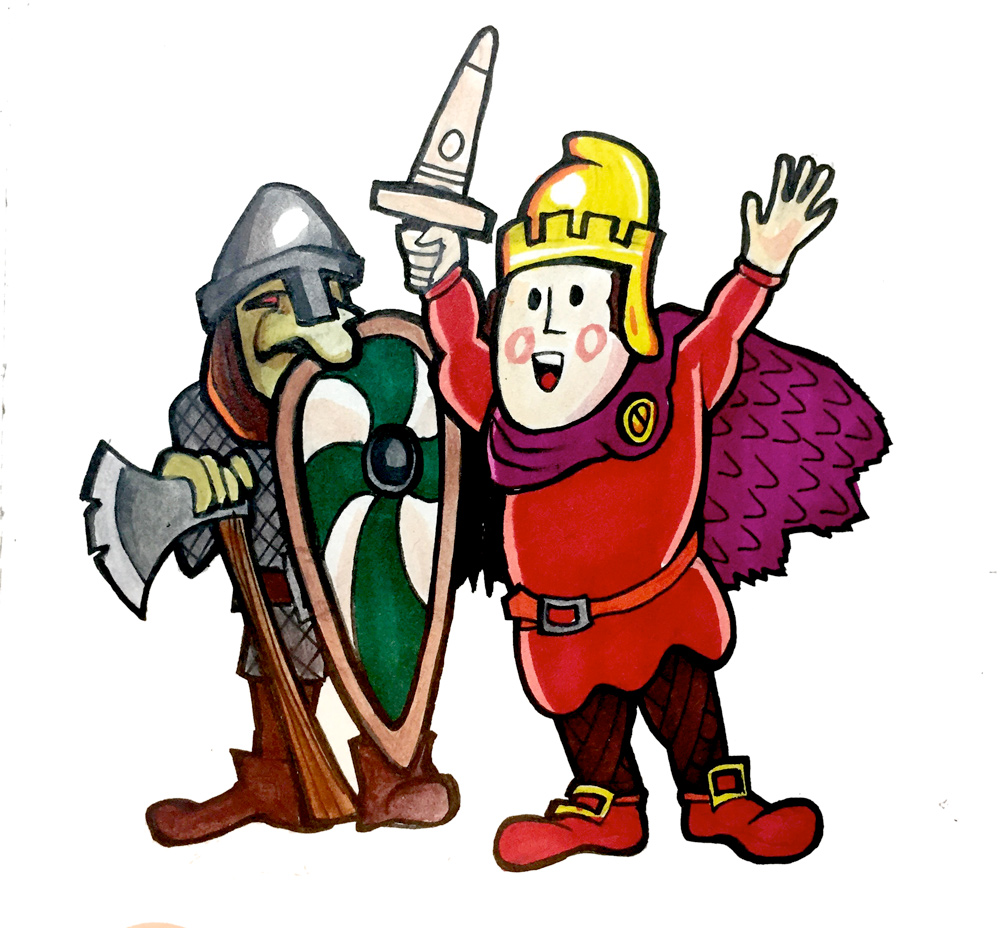 "Hello" said Noggin, cheerfully.  "Very pleased to meet you."
Gnolls in the Warhammer World are described as having ruddy flesh, but I thought that when placed alongside regular Normans he'd work better with green skin to reinforce his inhumanity.  As I found out reading Goblin Lee's blog on Gnolls, the Fantasy Tribes Gnolls were later rebranded as C12 Great Goblins, so I can claim the green flesh is goblin rather than botched Gnoll.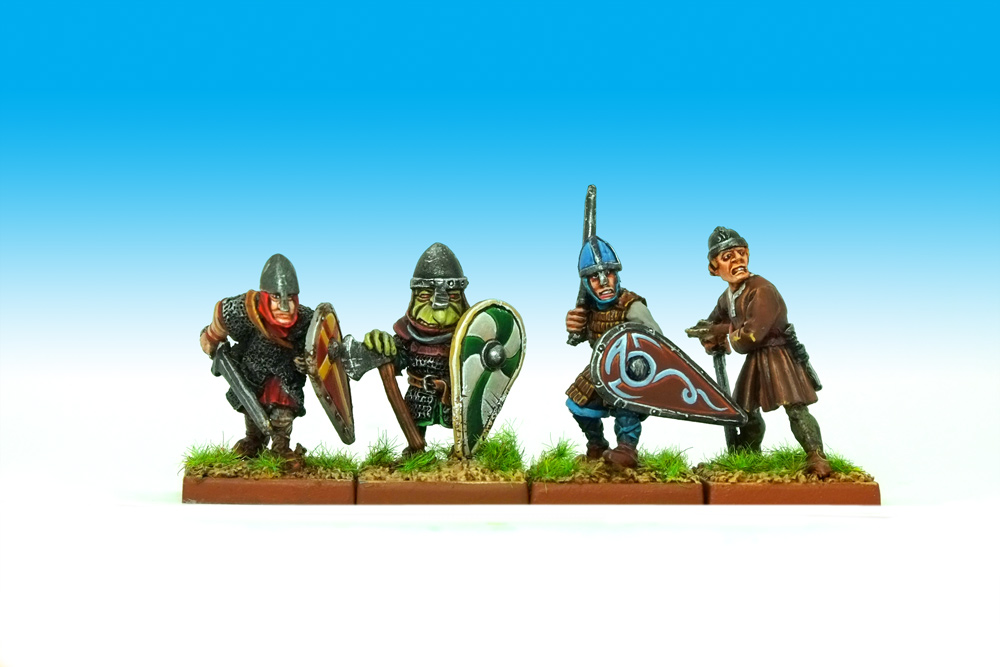 Gnollin with more Normans I've painted since Salute 2017.
I now have fifteen Norman Sergeants, which allows them to rank up pleasingly in a five-by-three regiment.  Though these models have been primarily used in Saga where round bases are king, I do like the 20mm square bases to make them into a neat and imposing regiment.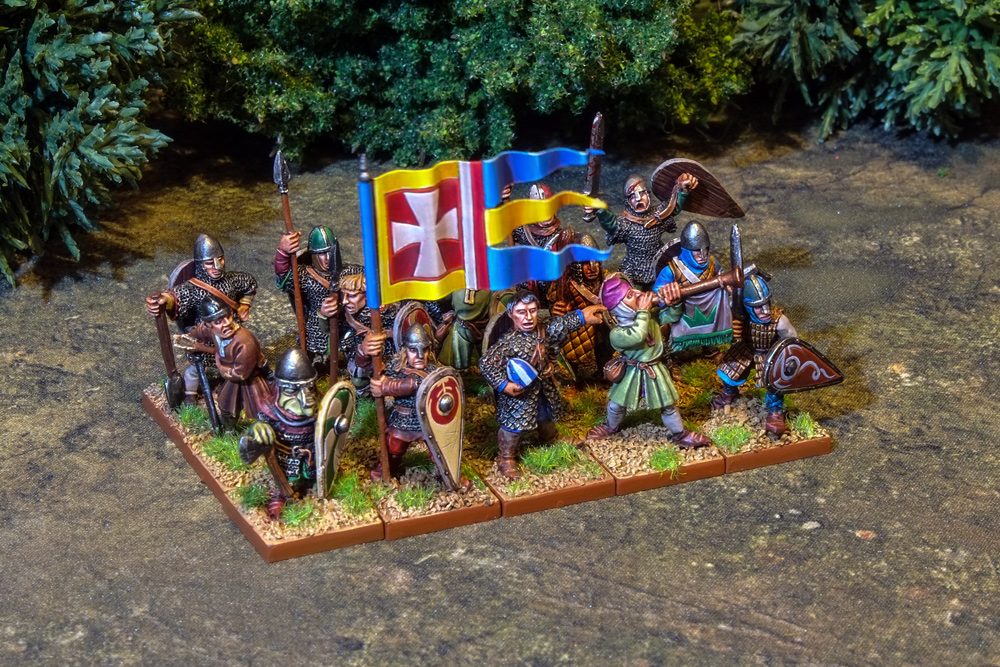 Lord Weuere happy to let Gnollin in his shieldwall.
Interestingly, Plastefuchs pointed out that Saga does actually have a fan-made supplement that introduces fantasy races to the game.
The Fantastic Saga rules are not done by any of the Saga regulars but a small group from tabletopwelt.de. Depending on what you envision your Gnolls to feel like, maybe the Kobaloi rules could fit well. You can find all of the new rules on http://www.a-fantastic-saga.com/. The sub-forum for AFS is quite active and the developers are there as well, helping out with rules questions.
I really enjoy slipping this little piece of fantasy into my historical force; I want to push that envelope further.  Watch this space!