Choose Your Own Adventurers #2: Captain Paradox Zeeman
"Let's all paint Adventurers!" cried sho3box. "I have almost all thirty-two of those rare expensive miniatures!"
"Yeah!" axiom responded. "I have all of that overly-fetishised and as such difficult-to-collect range."
"Yay!" Curis said, getting caught up in the enthusiasm of the group project. "I have … er … maybe … one?  But I'll do a cool retro-mimic logo!"

To reiterate from axiom's post, our rules are:
Paint a Rogue Trader Adventurer
Valid miniatures are ones marketed as "Adventurer" in a Mail Order flier, Citadel catalogue or White Dwarf
Let the other two bloggers have a turn, then paint another miniature.
As I had practically no Adventurers, sho3box generously jump-started my collection with the donation of a Pirate Captain.
Teenage-era sho3box had modified the Captain by adding an uzi-style magazine to the pistol and a pouch to the thigh.  He'd also removed the sword, as the lumpen sculpting and lead's tendency to droop made it "look like a floppy dildo".  This did give me the opportunity to do some conversion work to ham up the pirate angle – a hook hand.
The first attempt at a replacement was a "split hook" prostheses, made from two paperclips filed to points and bent into curves.  It didn't sit well with the chunky 1980s sculpting, so I added a big goofy Lego claw.

"Hello.  I like money."
The other pirate cliche I went with was stripey trews.  Disappointingly I realised after I'd painted Zeeman that the Studio paintjob also had stripey trews, so I wasn't doing anything new or edgy.
A lot of the early Rogue Trader figures incorporate anachronistic fantasy elements (either as a deliberate juxtaposition with the science fiction setting, or sculptors falling back on their established bags of tricks) – leather pouches, medieval boots, landsknecht sleeves, et cetera.  It's interesting that the Pirate Captain's boots are anachronistic, but aren't the cliché thigh-high pirate boots of your 17th Century Caribbean pirate; no no no, instead, they're boring ankle-high medieval boots.  Makes me wonder if he was sculpted as a generic 40K guy and later designated a pirate.  But anyway, to get the boots away from the medieval leather look I painted them gleaming ice-white, imagining Paradox Zeeman as a space-chav displaying his wealth with immaculate footwear.  (I may have also been thinking of the glorious Spacego cover.)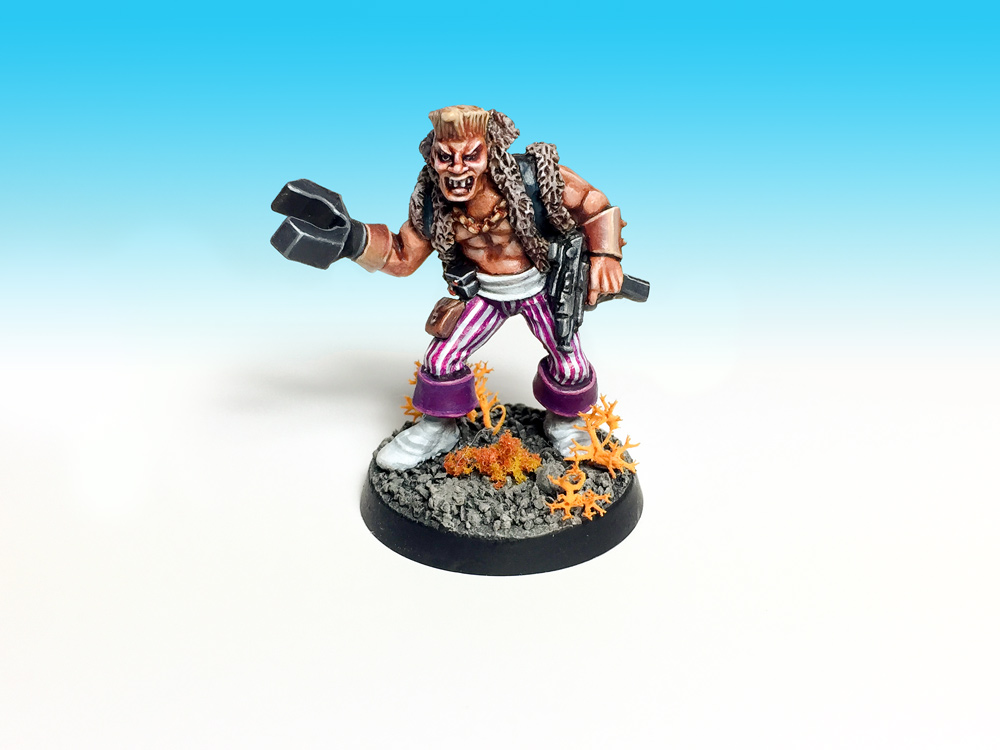 "Oi, innit blud.  Hit the legs, this is well waffle."
I am thinking about adding freehand insignia to the back of his jacket, possibly the Crab Claw Nebula symbol.  It'd tie in nicely with his claw.  But that's a finishing touch for another day, when I've collected the other Space Pirates in the range and rounded them out to a little trio/squad/army/formation/Apocalypse detachment.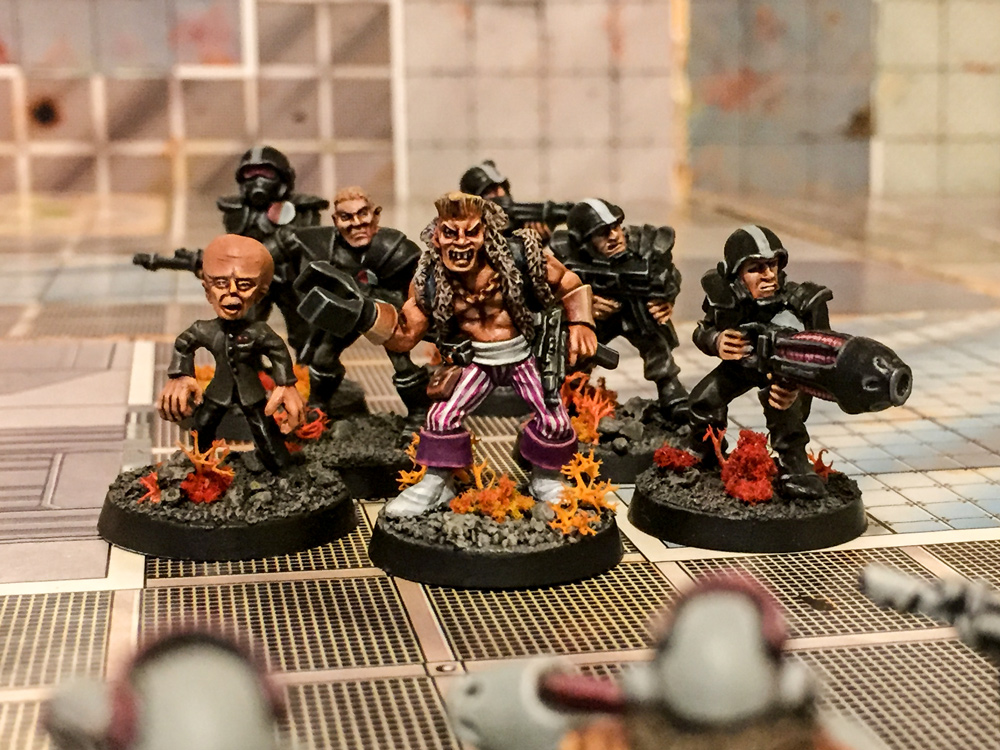 "Feds have landed up, wiv me in charge. You're merked."
Next up in Choose Your Own Adventurers – sho3box!