Rogue Trader Christmas Space Marines
It was Christmas 1987, and Games Workshop celebrated the festive season by releasing two limited edition Space Marines (or "Spaced Out Marines" as the advertising called them). I've painted the pair for my growing Crimson Fists force.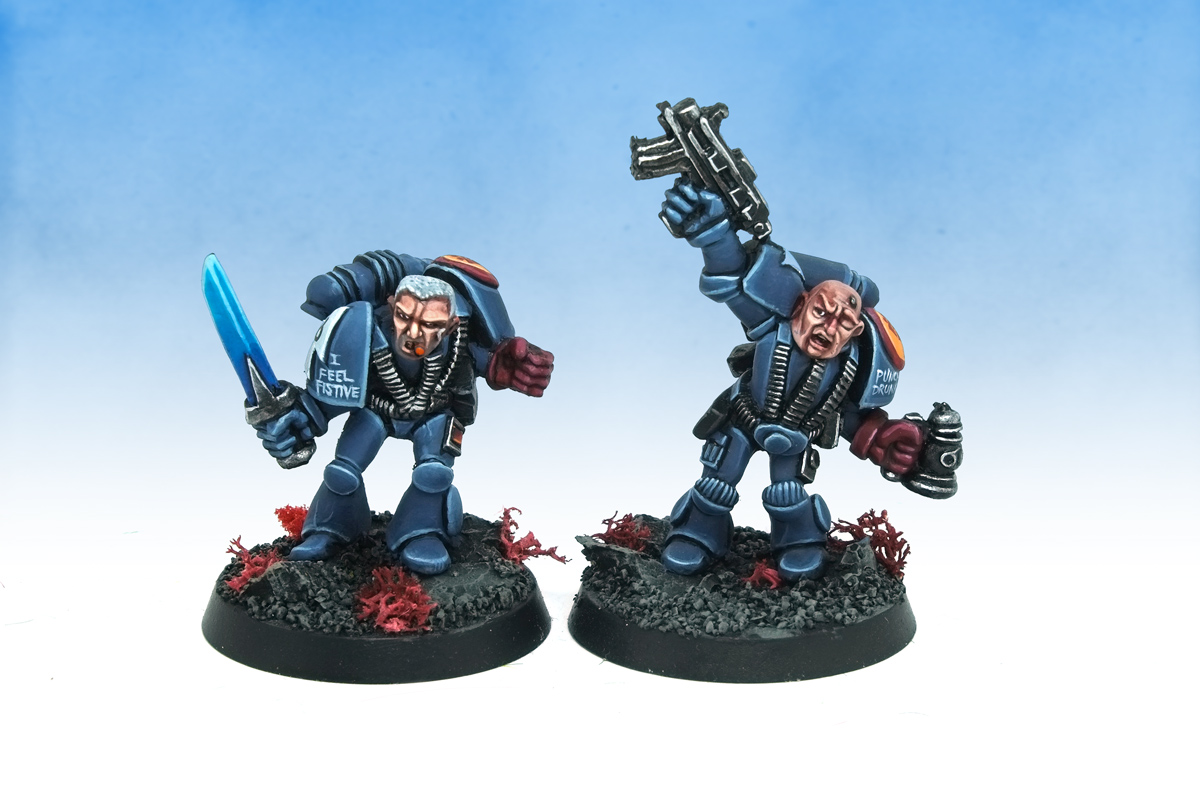 Crimson Fists, more like … Crimson Pisseds.

These castings came thanks to @DocRods – who's been sending me an absolute surfeit of vintage beakies and 2000AD bits. Thanks Doc! A very merry Christmas to you, more of them appearing painted very soon.

The Battle Brothers have I FEEL FISTIVE and PUNCH DRUNK graffitied onto their armour.

The cigar-smoking Space Marine has a wisp of tobacco smoke sculpted onto his cheek, which other painters have misinterpreted as a casting worm to remove, or a facial scar to paint pink.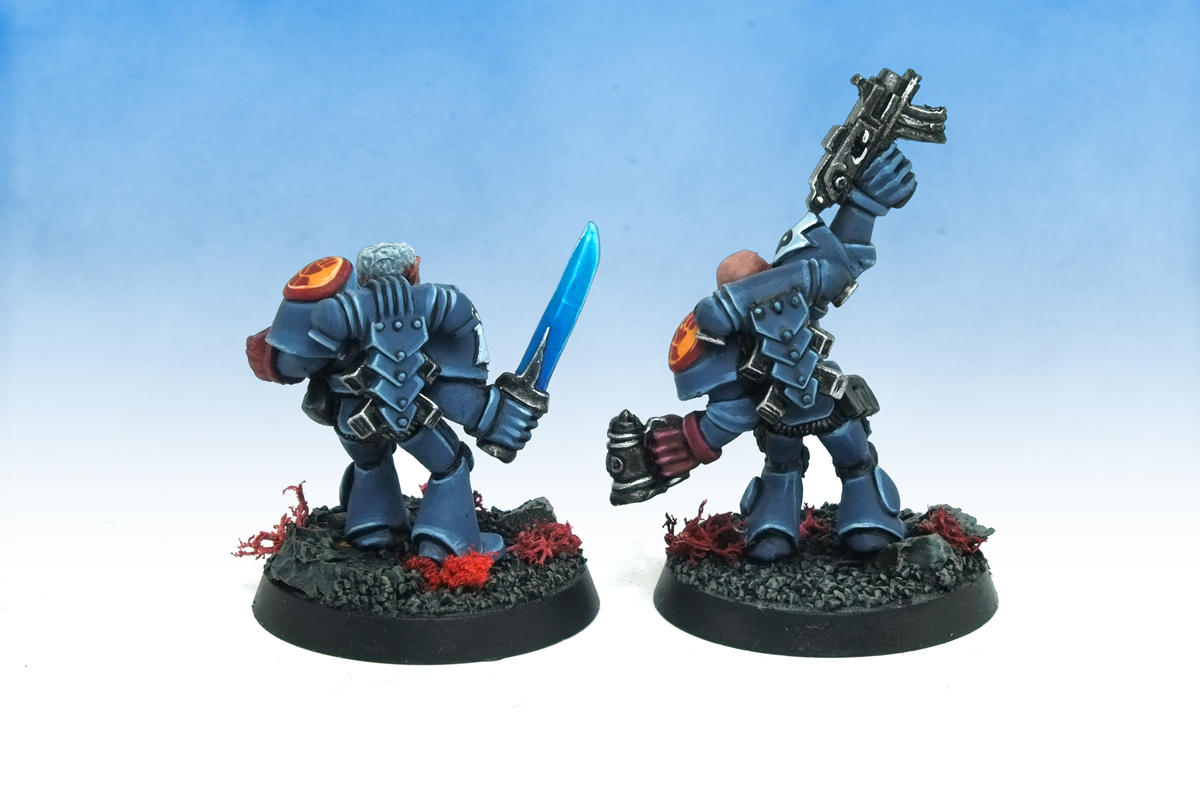 "Everyone! Let's … hic… get (war)hammered!"
There are two varieties of plastic mk6. backpacks – identical except for the placement of the depressions where they attach to the Marine. One hole is so high up that when mounted on the metal Rogue Trader Space Marines it looks like it's sliding down his back – but on this one Marine it's perfect for the drunken dishevelled feel.
The Crimson Fists stagger back from the Candlemas celebrations. But who-ho-ho is lurking in the woodlands?
Crimson Fists Painting Tutorial
This month my painting tutorials have seen a record number of sign ups in the wake of the Golden Demon victory. Thanks to all the new Ninjabread patrons who are supporting the photography and write ups, and also the website in general!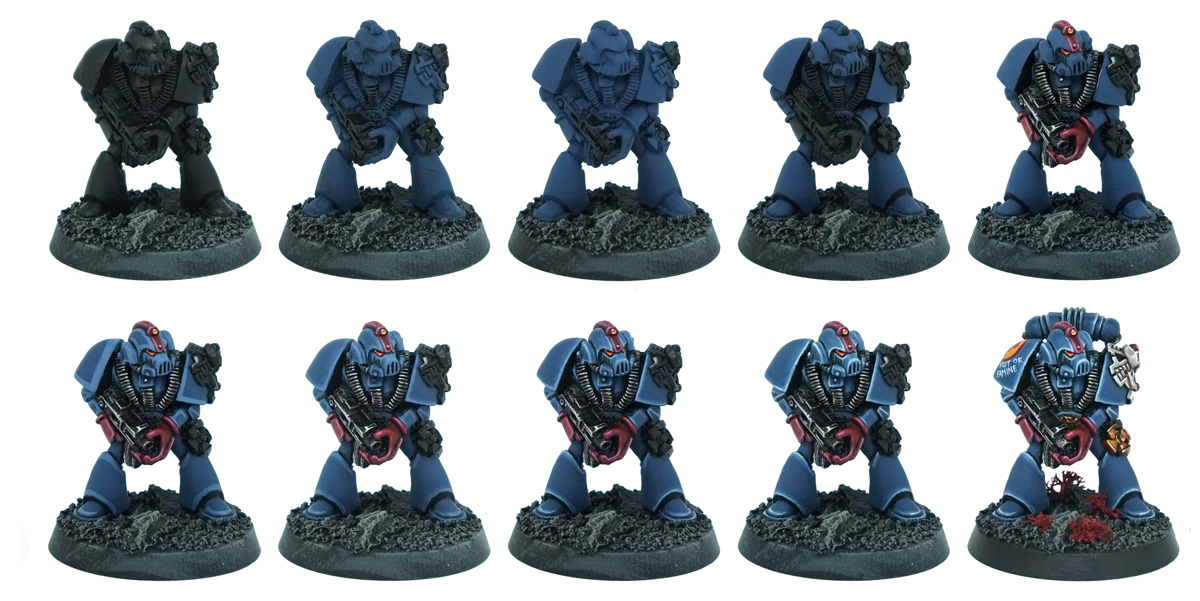 If you want to see these steps broken down, wth the techniques and theory behind them spelt out, the tutorial is available on Patreon. The skills you'll learn are transferable to all colours of power armour.

I've brought a pile of metal Space Marines away with me at Christmas, so hopefully it won't be too long before I can post up some new squads, characters and vehicles. Will 2019 be the year they can reach the critical mass of a workable army?
Merry Christmas and a happy New Year!