BOYL 2017 Exclusive Miniatures
At BOYL (Bring out Your Lead) it's become a community tradition to create one-off figures to celebrate the three-day extravaganza of Oldhammery painting and gaming.  Here are three from 2017 painted up just in time to pick up 2018's without any leadguilt.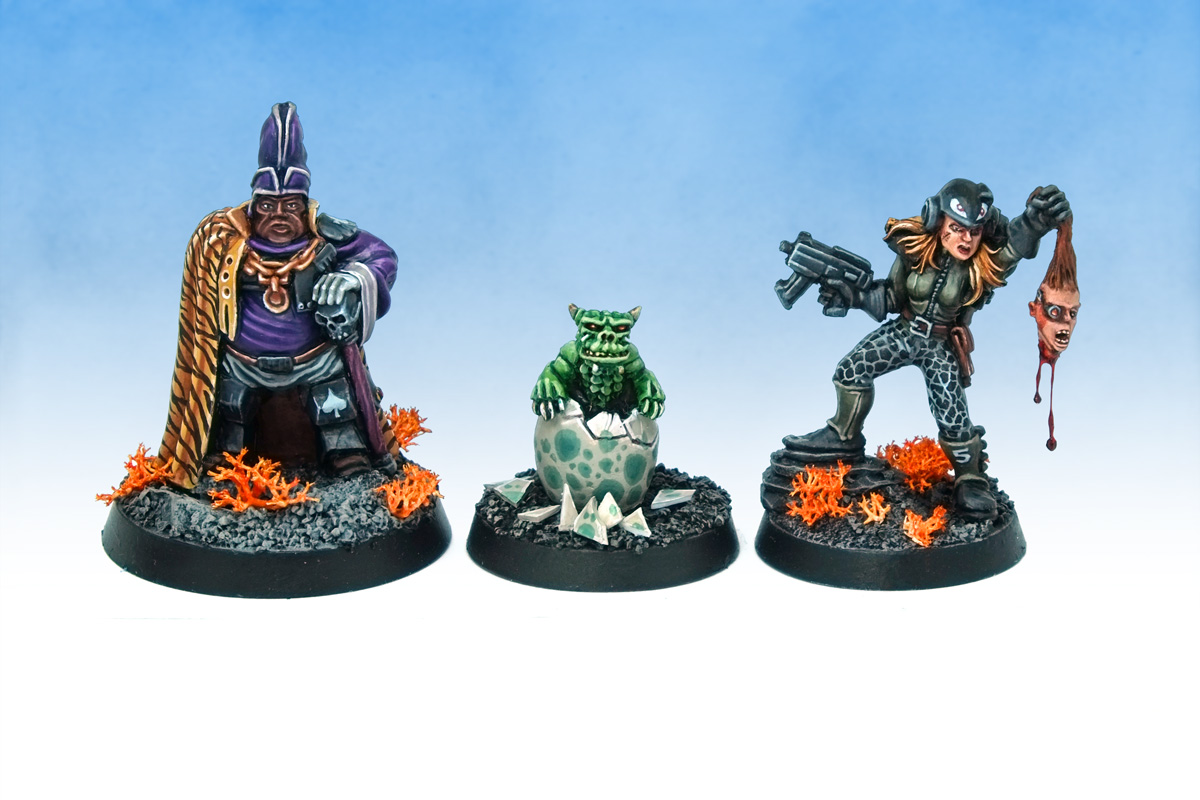 Left to right: Helsreach Mayor, Grox Egg and Olivia Neutronbomb.
I really like event-exclusive miniatures as they're tethered to a set of memories of friends, games, meals out, heavy drinking, stupid decisions and hangovers.  Lemme explain why these three minis came to be.
---
Olivia Neutronbomb
Olivia was the 2017 event's commemorative figure, sculpted by John Pickford.  She's a 28mm metal incarnation of the classic 1987 Rogue Trader illustration by Martin McKenna.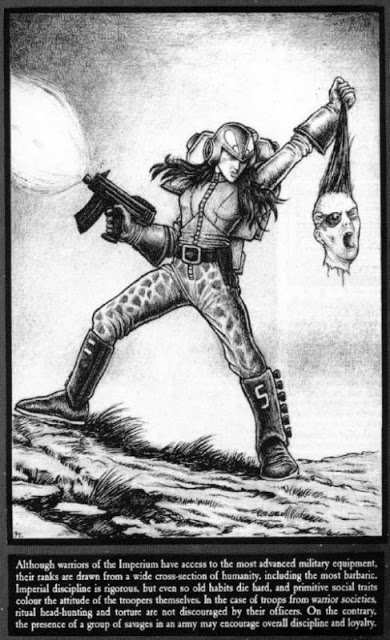 I painted Olivia to slot into my Rogue Trader Godbreak 84th Imperial Army.  Her animal-print trousers were repainted a few times as I wrestled with various animals' colours clashing with the Godbreak's grey-green and black.  Then I realised I needn't be constrained by real animals in the distant alien future of Warhammer 40,000!  Hence the "Greyscale Giraffe" was born in my imagination.  (Geeez Curis, all that creative potential and possibility and all you come up with is a desaturated giraffe.)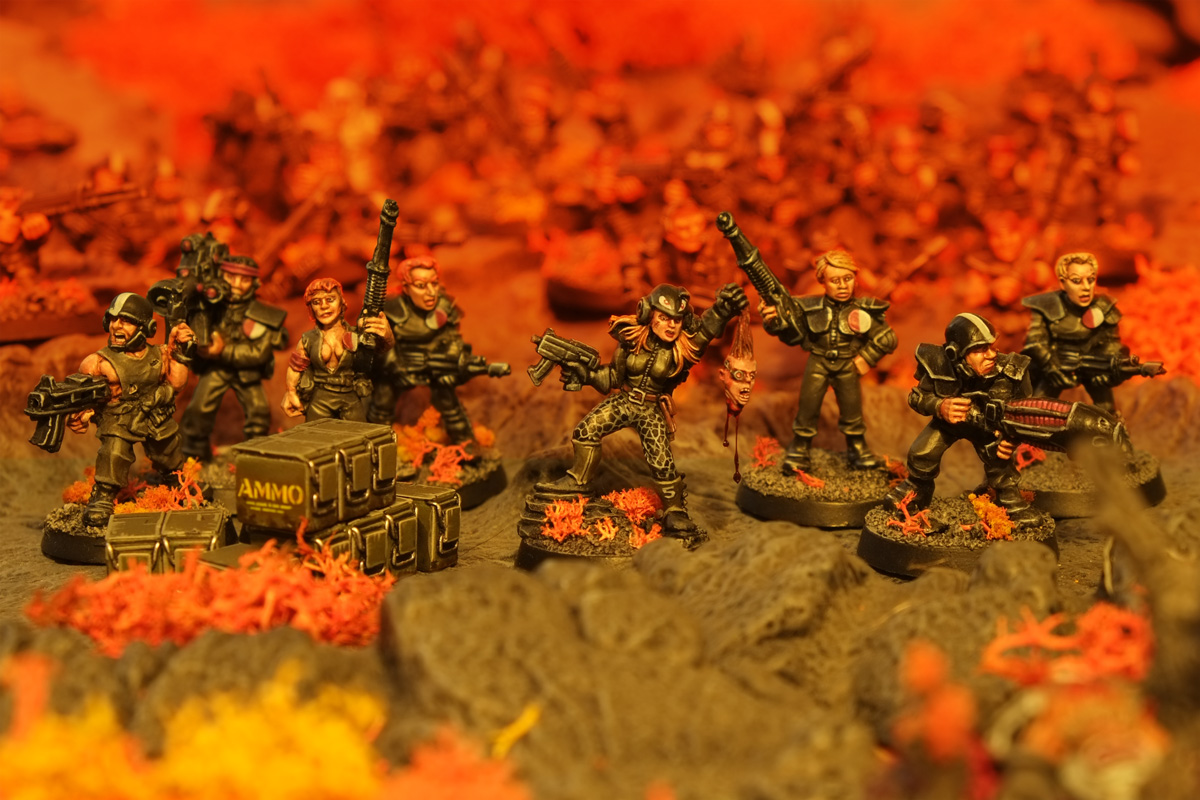 Olivia leading the Godbreak 84th, showing her head for strategy.
Other people who've painted their Olivias are: asslessman, axiom, Dr Mathias, Grove,  Orlygg and Suber.  Check 'em out!
---
Grox Egg
Grox are the cattle of 41st Millennium.  They appeared as an illustration in the 1987 Rogue Trader rulebook, though they've never had a miniature incarnation.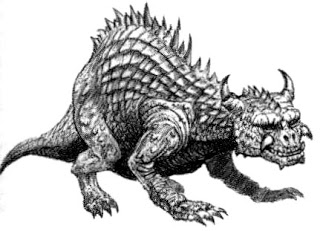 That was until axiom commissioned John Pickford to sculpt this cheeky little hatching Grox.  Why?  Cos axiom was running a Grox-herding participation game and going several egg-stra miles to realise the world of grimdark ranching.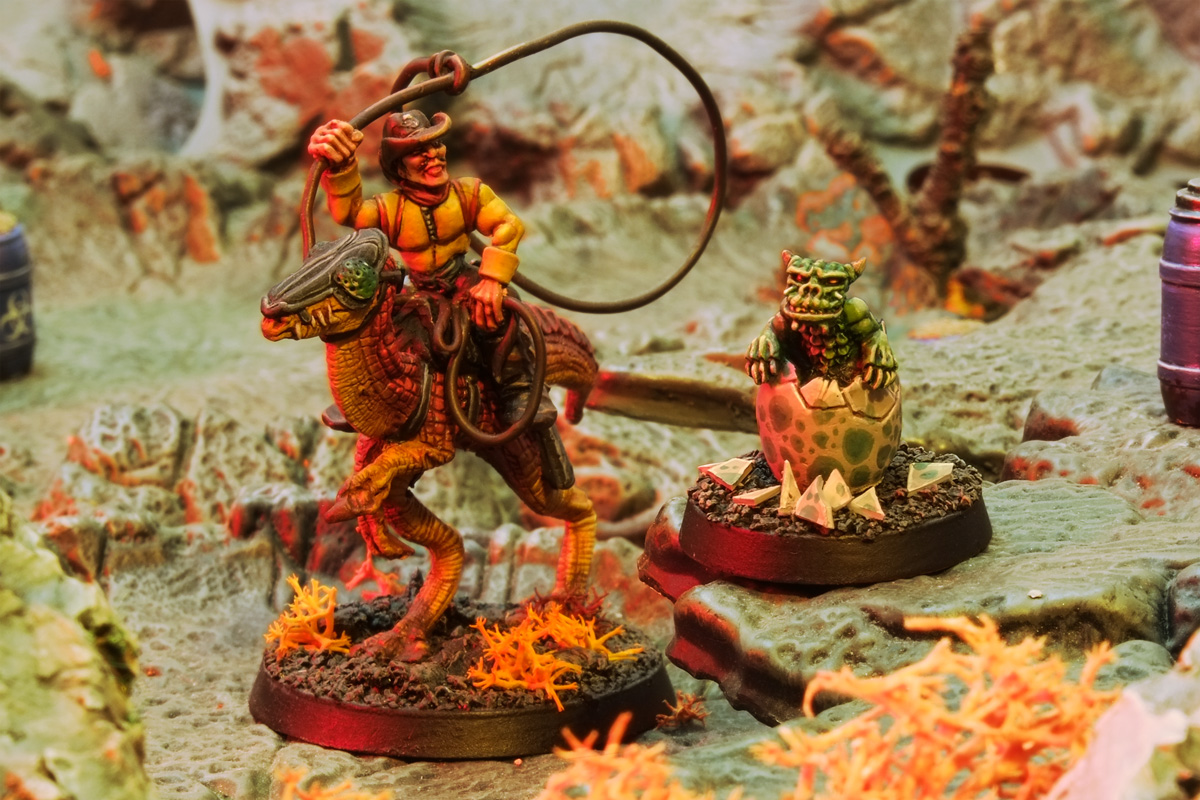 Mungo Beefhead lassoing a hatching Grox.  Find out more about this Space Cowboy here.
I painted the egg with green spots – obviously channelling Yoshi from Super Mario.  The shell fragments are cut-up plastic carton lid glued onto the base after drybrushing.  I planned on making a small nest diorama with several unhatched eggs (my sculpting ability just able to cope with unhatched eggs), but I ended up doing something more ambitious…
---
Mayor of Helsreach
Curtis at Ramshackle Games sculpted this miniature to celebrate his massive participation game at BOYL 2017, set in Helsreach – the iconic Rogue Trader townscape.  This miniature is really characterful and fun to paint, and on finishing it I immediately went and jumped some other Ramshackle bits to the front of the painting queue.  The game is running again at BOYL 2018, and I recommend stopping by to drink in all those square feet of his miniatures and terrain Curtis, Aidan and Danny have put together.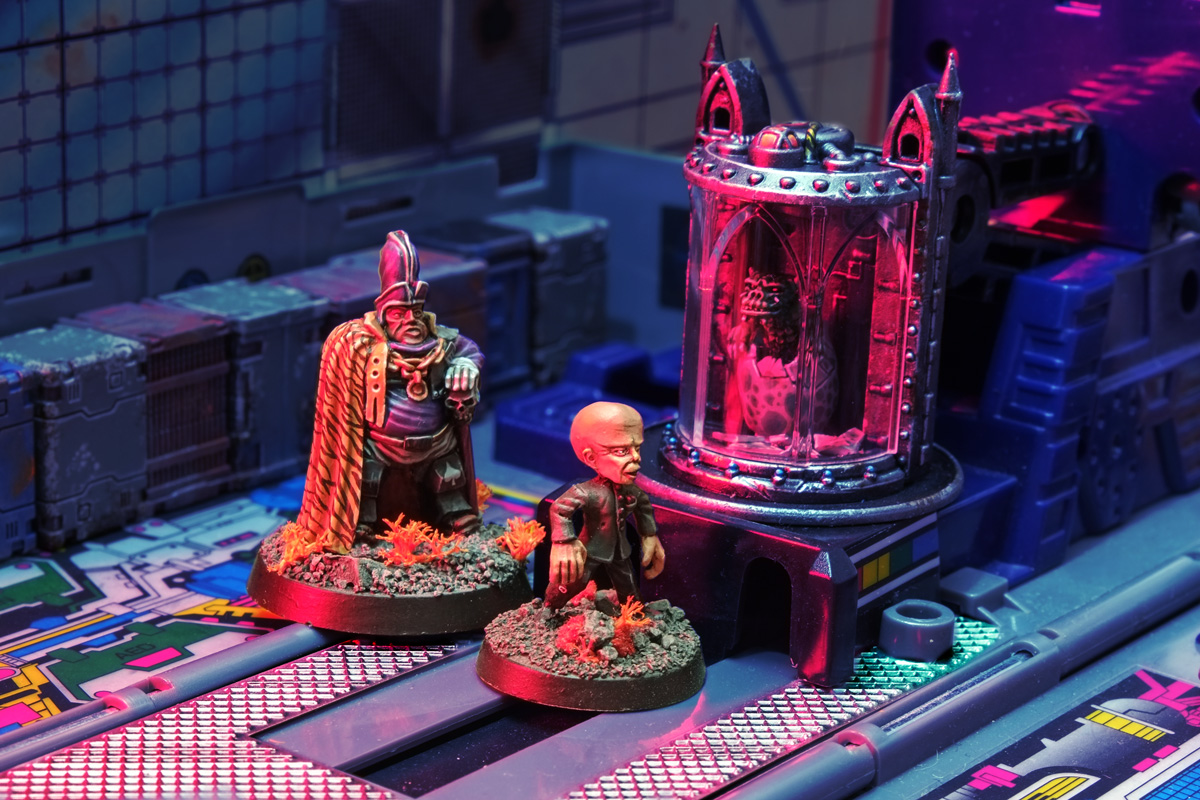 The Mayor touring the Cullentown Grox Incubation Facility.  His Techpriest tour guide is regarded as the Helsreach's leading "egghead".
The Grox incubation chamber is a cut-down cryo-stasis piece from Games Workshop's Sector Imperialis Objectives. The transparent "glass" component needed great care to resize – the plastic is so brittle any stress on it will cause massive white cracks to shoot through the whole thing.  There were a few near-misses and lots of eggs-pletives.
---
BOYL 2018

This year's BOYL is almost upon us – Friday 3rd August to Sunday 5th August at Wargames Foundry, Nottingham, England.  It's my favourite three days in the gaming calendar.  Hopefully see you there!  Check out the site at for full details on  games and location: https://bringoutyourlead.co.uk/.