Hundred Years' War: Blandford Warriors Episodes 3 & 4
Arch-rivals from opposing sides of the Hundred Years' War.  Each of them a talented medieval commander, but with a great respect for the other's skills and abilities.  Presenting two classic Citadel Miniatures  – Sir John Chandos and Bertrand du Guesclin.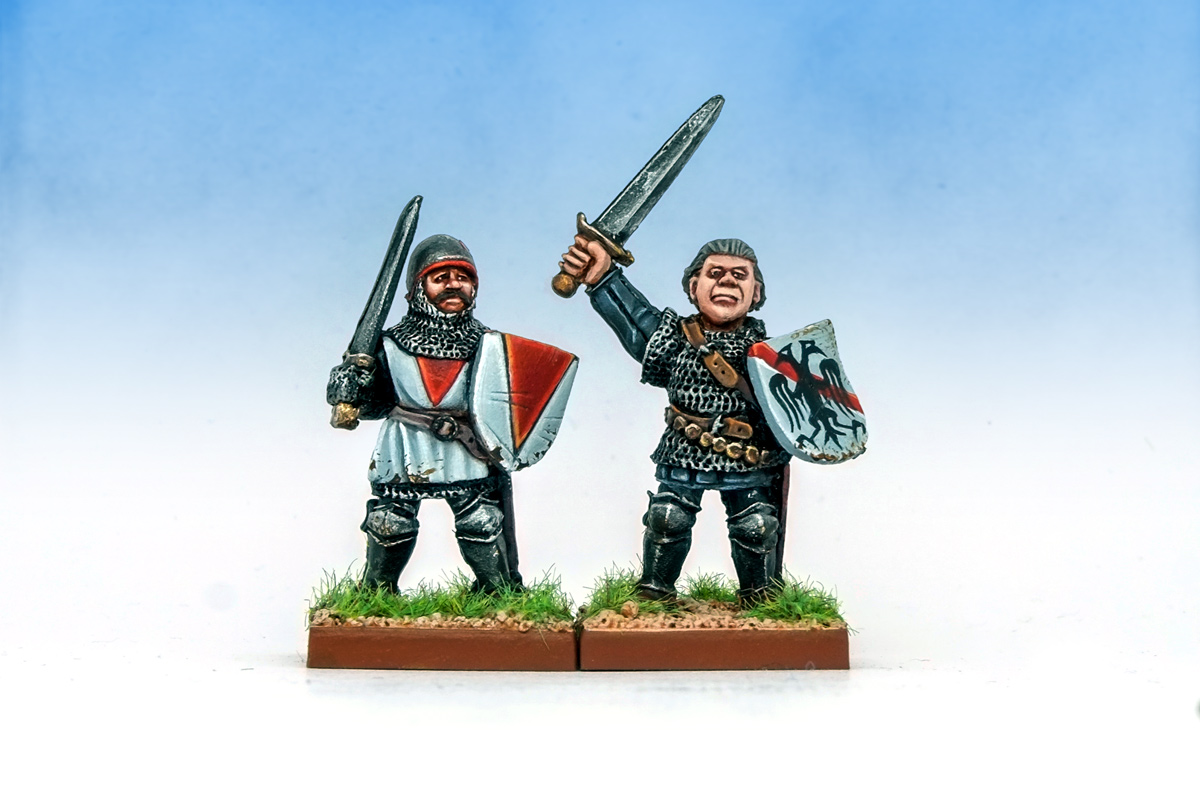 English commander Sir John Chandos and French commander Bertrand du Guesclin.
I like how different the miniatures are to each other.  Chandos is depicted as a classic knight in shining armour, with his "sharp pile gules" (a medieval way of saying "upside down red triangle") heraldry sculpted onto both his tabard and shield.  His chainmail coif and fine moustache mark him out as a gentleman.  In contrast, du Guesclin with his black Breton eagle is a scruffy bugger with his bare head and loose-fitting straps.  Du Guesclin was a low-born brawler who started his career as a marauder, ambushing people in the forests of Brittany.  His equipment was reputedly in such poor condition he was sometimes mistaken for a common brigrand rather than a knight.  When the pair first met, Chandos lent du Guesclin his own armour and horse, as du Guesclin's own kit wasn't nice enough to be seen duelling in.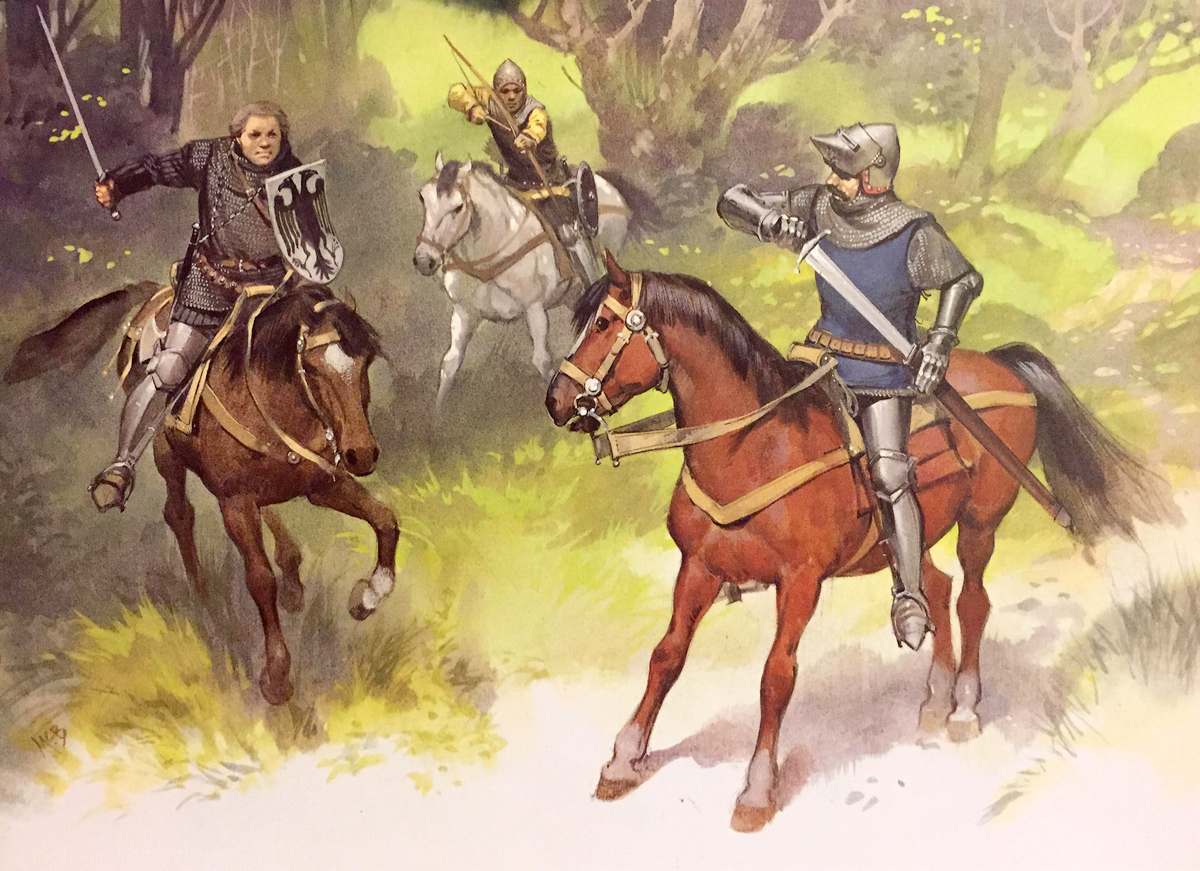 Bertand du Guesclin and his retainers surprising men-at-arms of Sir High Calverly on the road to Montmuran, Brittany, 1354.

The two men clashed on opposing sides of the Battle of Auray in 1364.  The French were defeated, and du Guesclin taken prisoner by Chandos.  France quickly paid his 40,000 florins ransom as they were keen for him to command an expedition to assist in the Castilian Civil War.  Guesclin invited Chandos along with him to Castile, a sign the two men had grown into friends, though Chandos declined.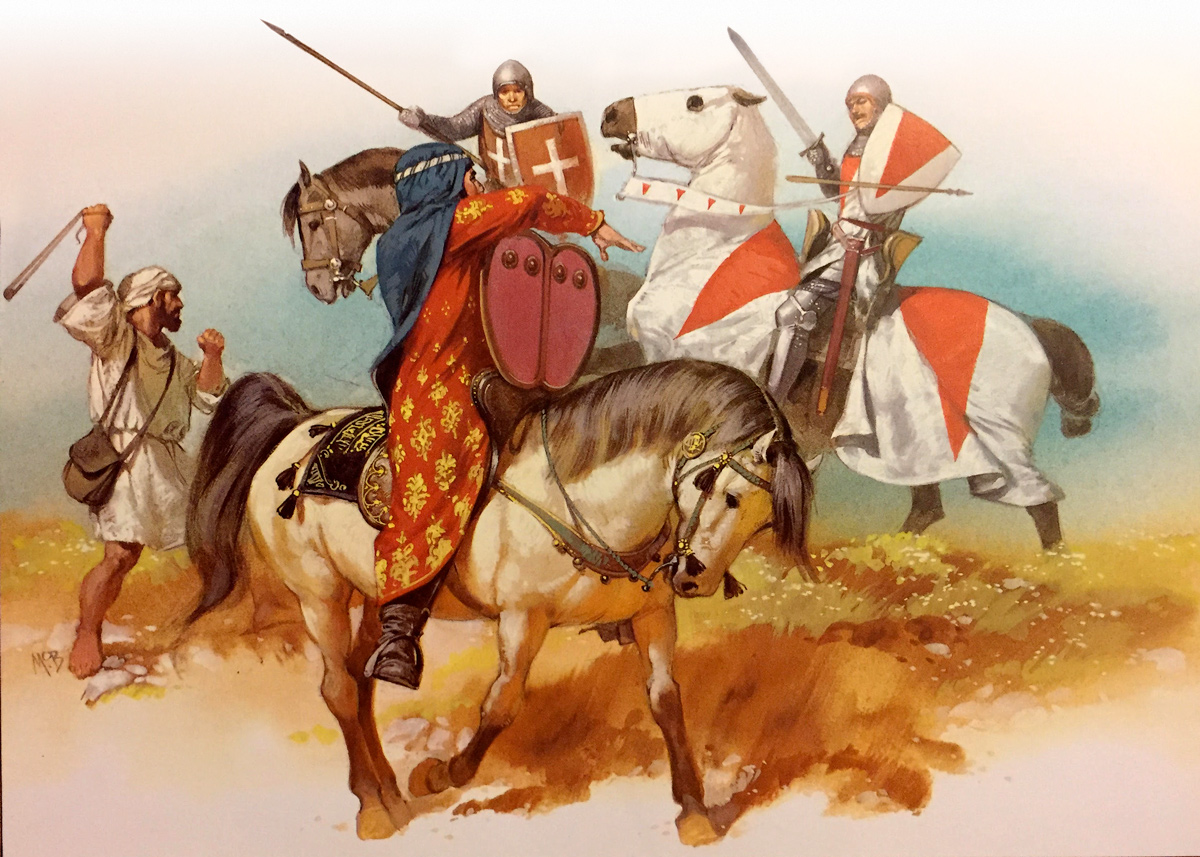 Sir John Chandos is harassed by Moorish genitors in the army of Henry Castile at the battle of Nájera, northern Spain, 1367.
The pair also fought on opposing sides at the Battle of Nájera in 1367.  Again the French were defeated and again du Guesclin was taken prisoner by Chandos.  Again France were eager to have him back and paid a massive 100,000 francs.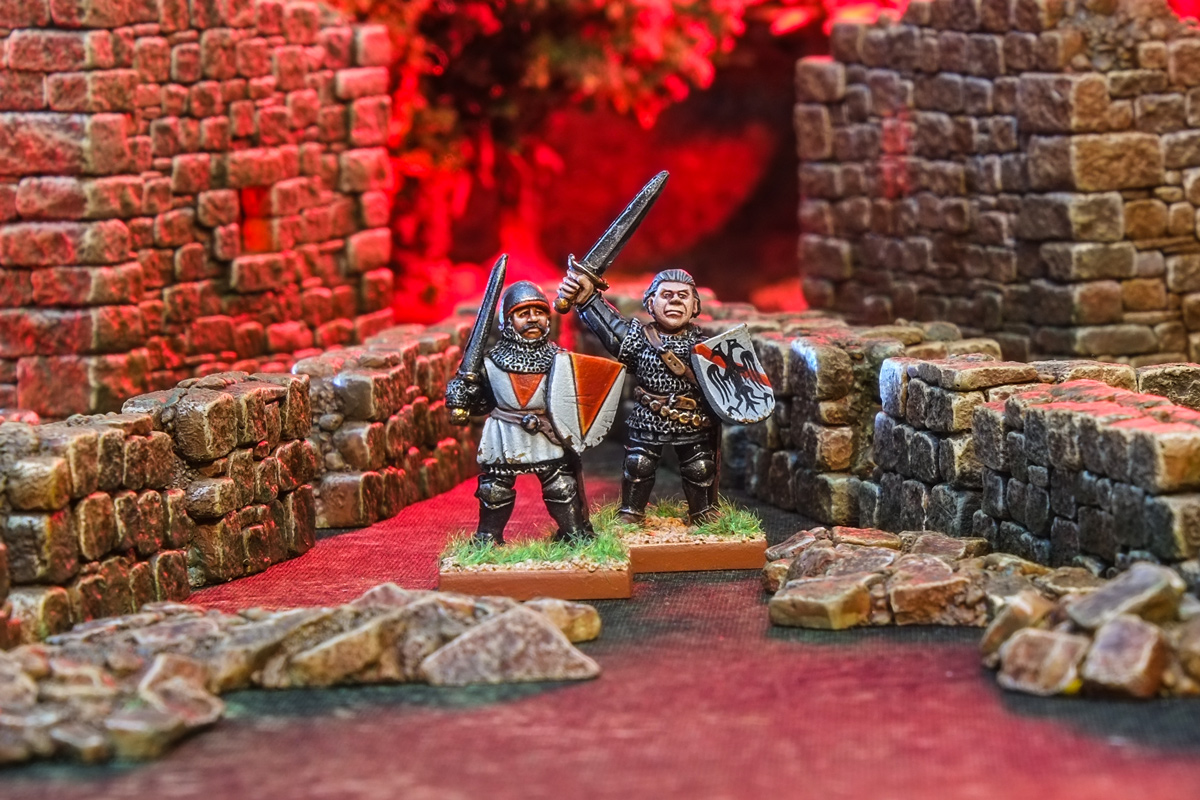 Chandos and du Guesclin in the crumbling Burgundian ruins of Grenoble.

The walls of Grenoble in the picture above are from an upcoming Kickstarter from Fogou Models.  I've been gifted a set to paint ahead of the campaign, and they've been an absolute joy to drybrush and weather up.  Expect to see a lot more photographs of them in the future.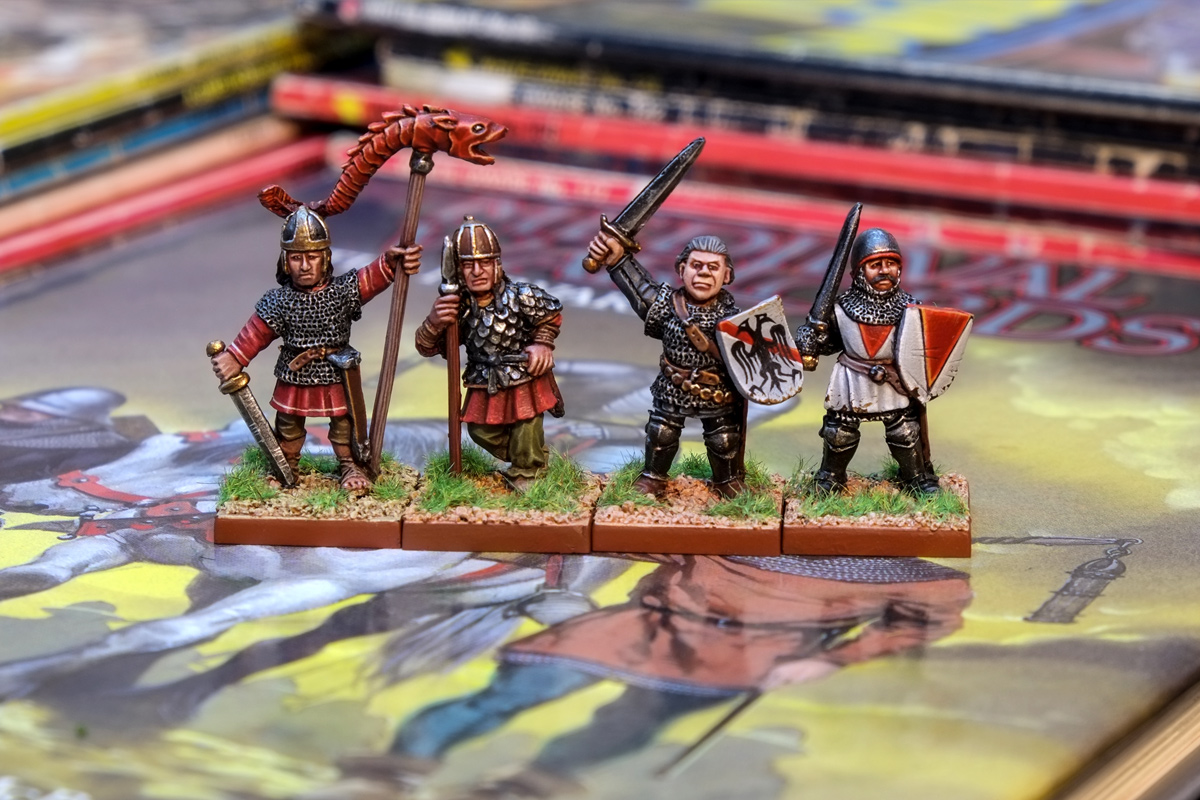 Left to right: Biscuit Dude, Alan Horseman, Bertand du Guesclin and Sir John Chandos.
That's one third of the Blandford Warriors painted now!  I'm hoping to get all twelve finished for Bring out Your Lead in August – they were last year's reissue and want to buy this year's without any lead-guilt.  Next up,  we'll be going in to the Hussite Wars.  Check out Alan Horseman here, and Biscuit Dude here.