on
August 6, 2014
at
11:00 am
Earlier in the year I backed Bob Olley's Steampunk Scrunt Kickstarter. Bob was the mind behind the Ironclaw ranges released by Games Workshop in the 80s.  He has an instantly recognisable style that almost paints itself.
But before I backed the Kickstarter, I bought some of his existing Scrunts to see what the casting quality was – and it's fantastic.  Clean and smooth details throughout, with minimal cleanup required.  Whoever molded and cast these minis is an artist in rubber.
I had to paint these test models before I can start painting the Kickstarter Scrunts.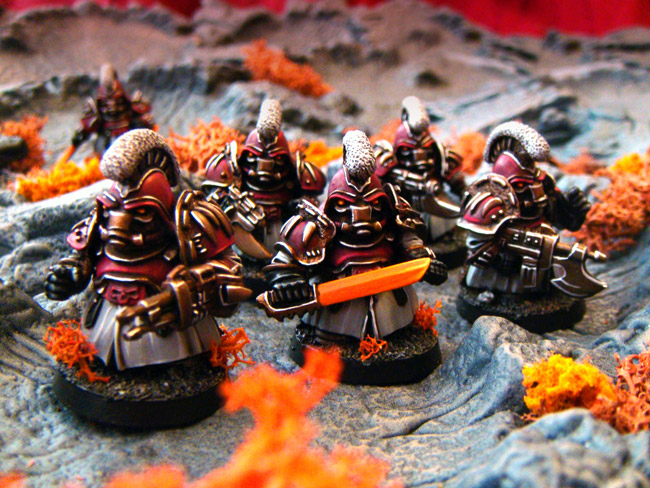 I struggled for a while with their colour scheme.  These models are very plump, and don't fit in stylistically with either my Furnace Valley Squats or Nethyr Edge Forge Fathers.  I then tried a dark green and black scheme, but without exposed flesh faces or brightly-coloured visors to form a focal point, they lacked contrast and looked unfinished.  Since the Kickstarter models in the queue have a strong steampunk aesthetic, I used a dark brass colour on these models so they can sit alongside their Victoriana brothers and sisters.