Chaos Centaur of Tzeentch
Q. What do you get if you cross a Chaos Centaur of Tzeentch, and a zebra?
A. A "Tzebra".

Presenting Tzebra Doomstripe, the latest monster to swell the ranks of my vintage Warhammer collection.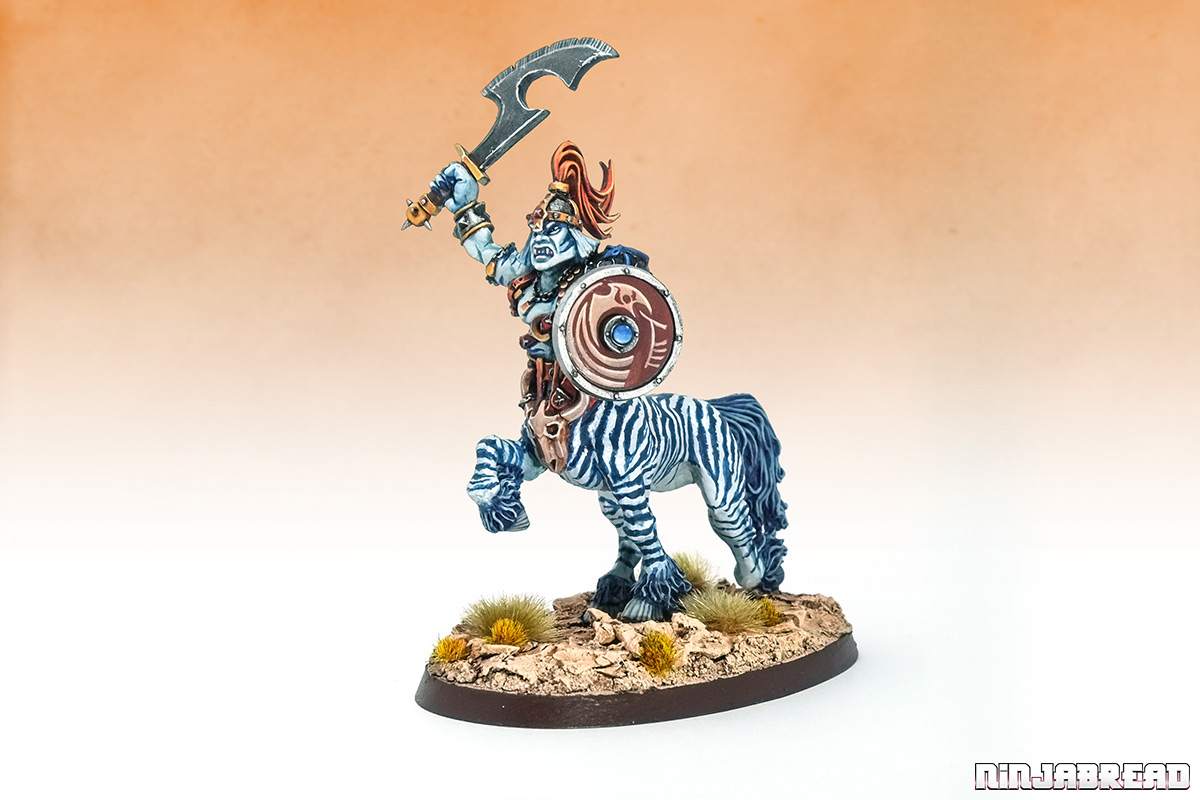 This tzoological monstrosity was my entry into the "Make a Trish" competition in the Oldhammer Community. Challengers had a month to model and paint a Trish Carden miniature, and the Mistress of Monsters herself would pick a favourite.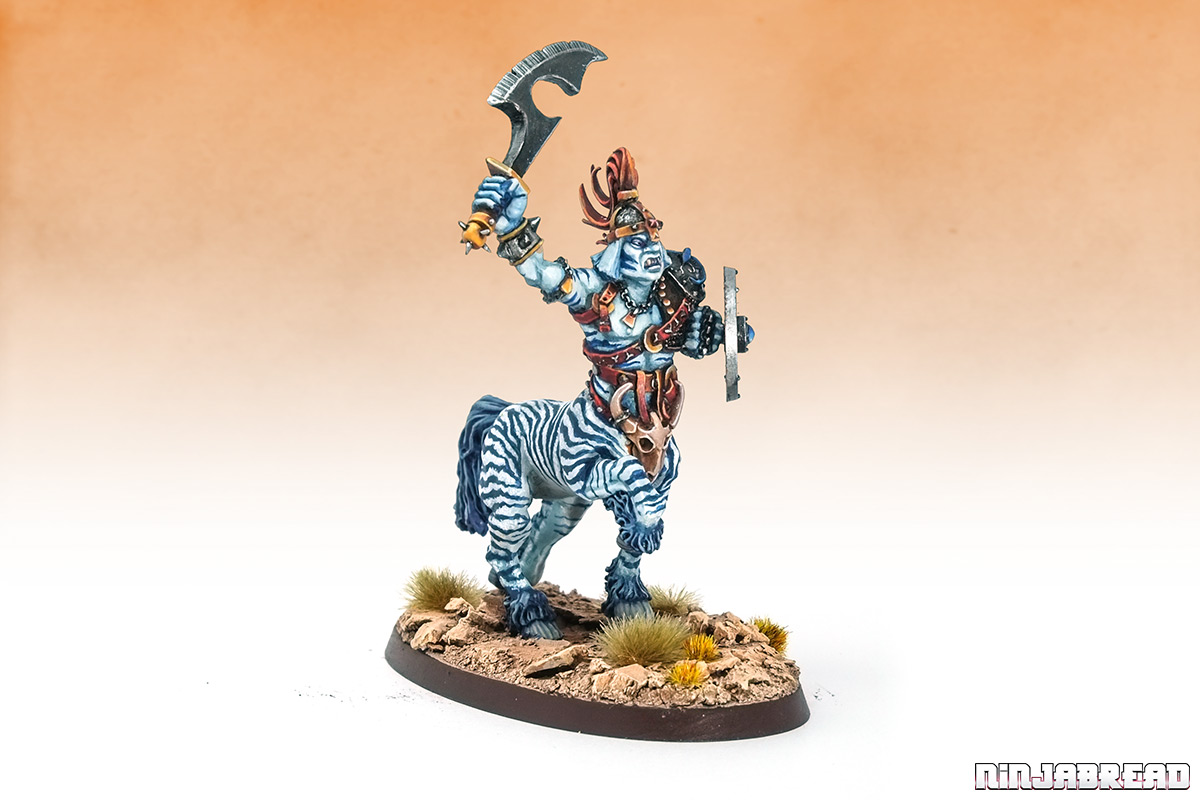 Tzebra is not one actually one Trish Carden monster, but two mashed together. The MM94/1 Chaos Centaur Lord was a metal human torso designed to be fitted to the standard plastic Warhammer horse torso (henceforth: "horso"). But the plastic horso had spindly legs that looked wrong with the human torso's majestically beefy barbarian arms, so I decapitated Trish's MM83 High Elf Unicorn and used it as a replacement horso. This new unicorn part is, importantly, also saddle-free – Tzebra is a Lord of Chaos and tolerates no riders upon his horso.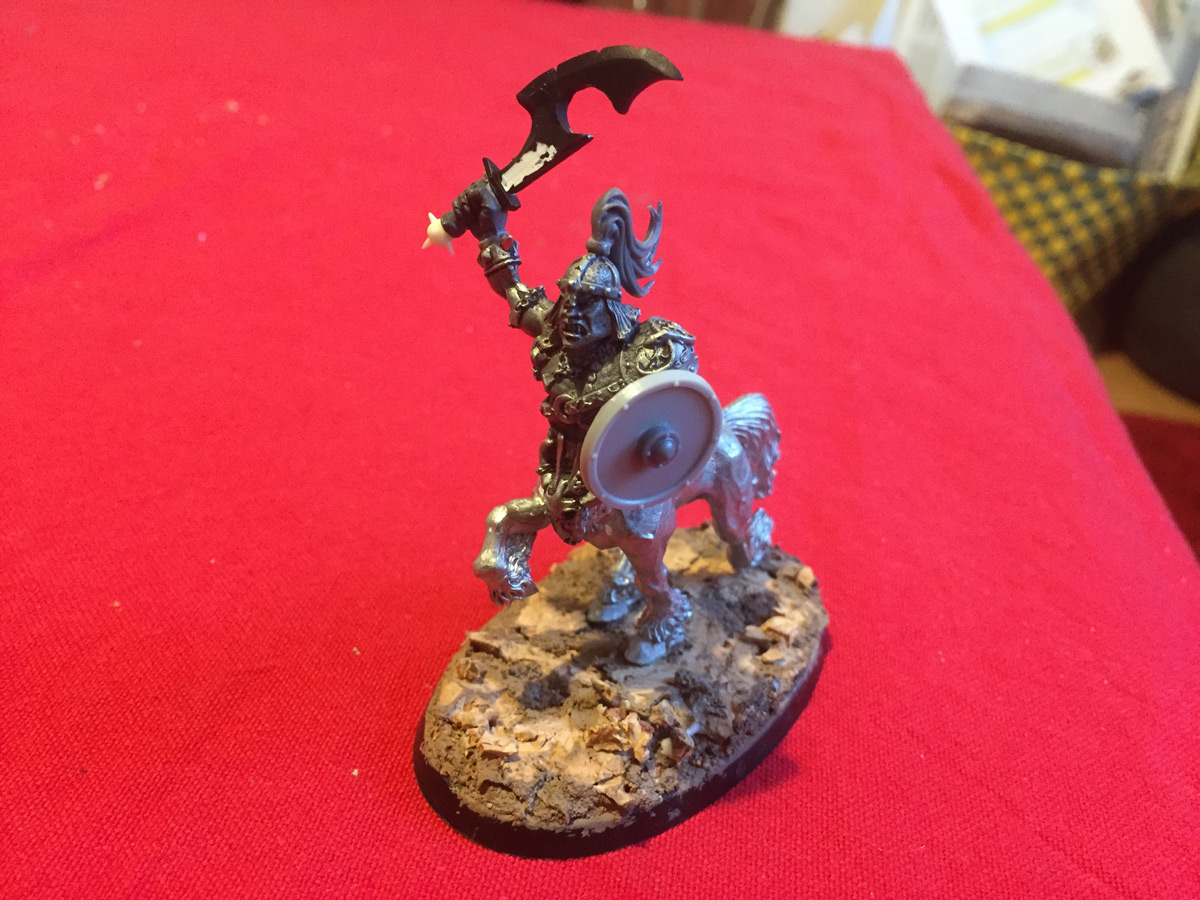 To nudge Tzebra into Tzeentch's visual territory, I swapped his barbarian broadsword for a scratch-built khopesh. His helmet plume was switched for a plastic Ork topknot, whose flowing lines better matched the new unicorn tail. Historically, these helmet plumes were made from dyed horsehair, meaning Tzebra has made a hat decoration out of his own bodyhair.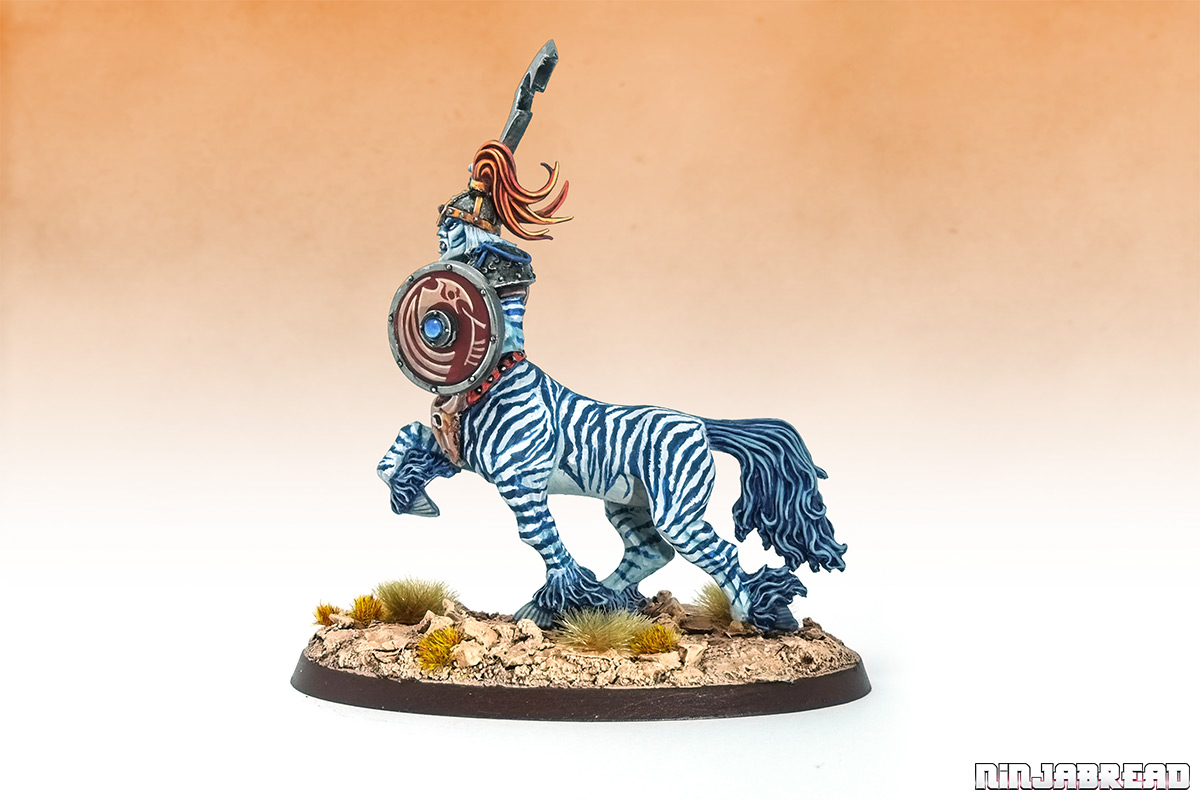 The skin was painted light blue at first (using a modified version of the Ur-Ghul recipe Patreon backers have access to), and had dark blue strips added afterwards. I did a digital mockup of the colours to experiment with continuing the zebra strips onto the human elements, and also to work out if the blue and white stripes that worked in my imagination would look too "Bananas in Pyjamas" (thankfully not).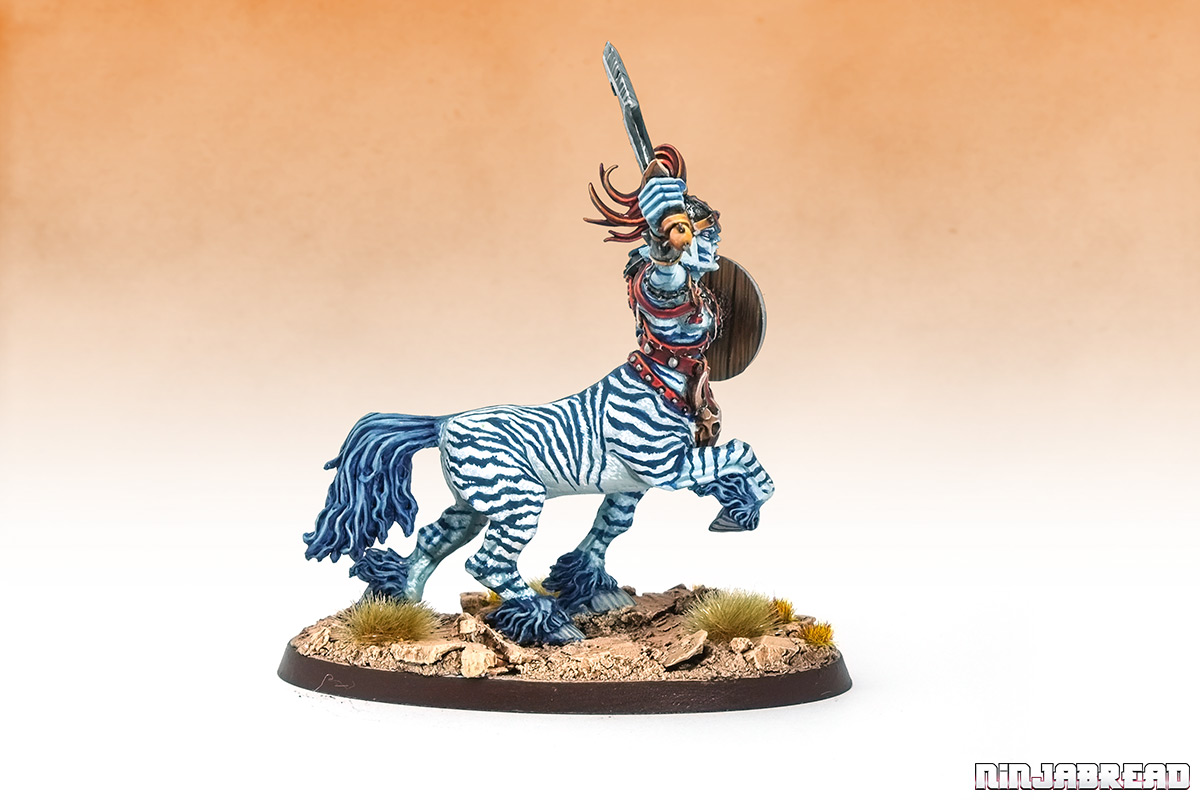 Tzebra didn't win Trish's competition, losing out to Jonathan Marshall's atmospheric Albion Fenbeast. You can check out a gallery of all the entries here . Thanks to Asslessman for organising the competition, and Trish for judging and providing the prize.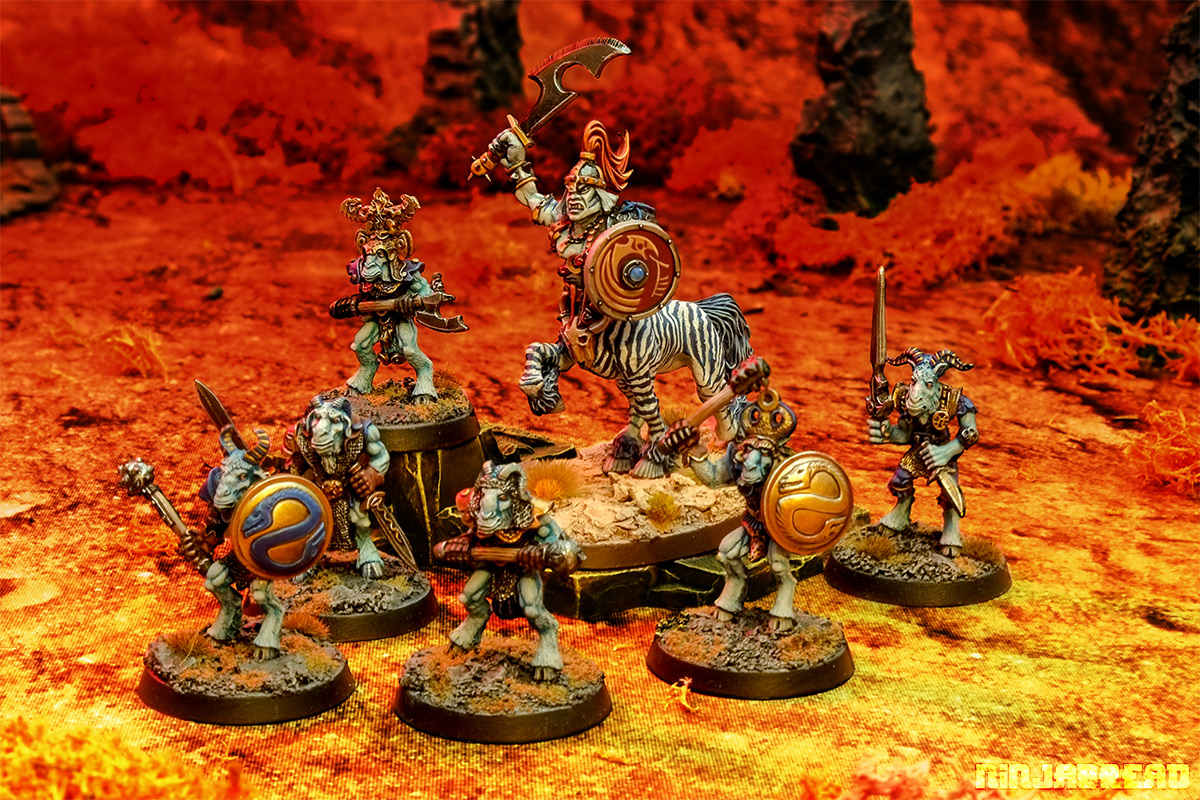 More tzany Tzeentch creations coming soon!