Tzeentch Familiars Old and New
Tzeentch has many Silver Towers floating through the Mortal Realms, but the one I am building is full of throwbacks to a time when metal miniatures reigned supreme. Welcome back to my Silver Tower of lead.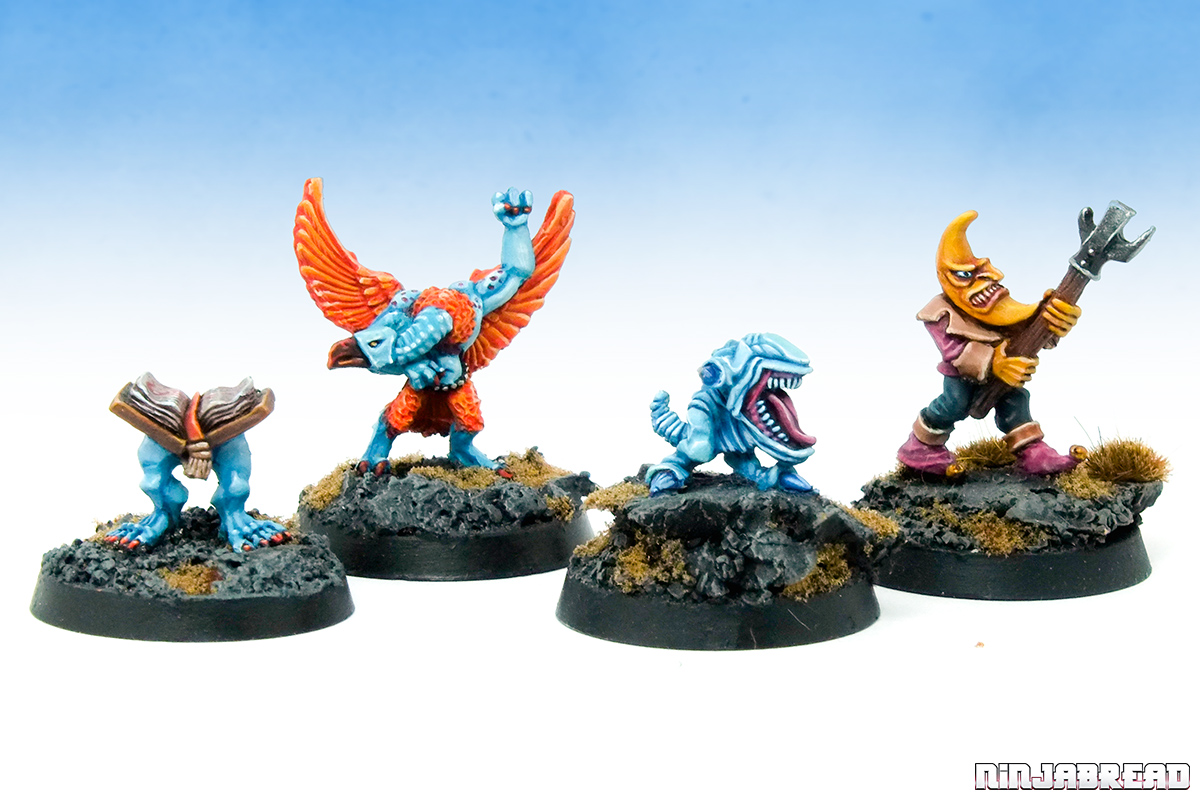 The initial spark that led me on a four-year quest to reconstruct the Silver Tower game with 1990s lead miniatures was two of the tiny familiar miniatures – instantly recognisable as reimaginings of Citadel classics from days of yore. I've painted a complete set of modern plastic versions, and a complete set composed of 1980s/1990s analogues.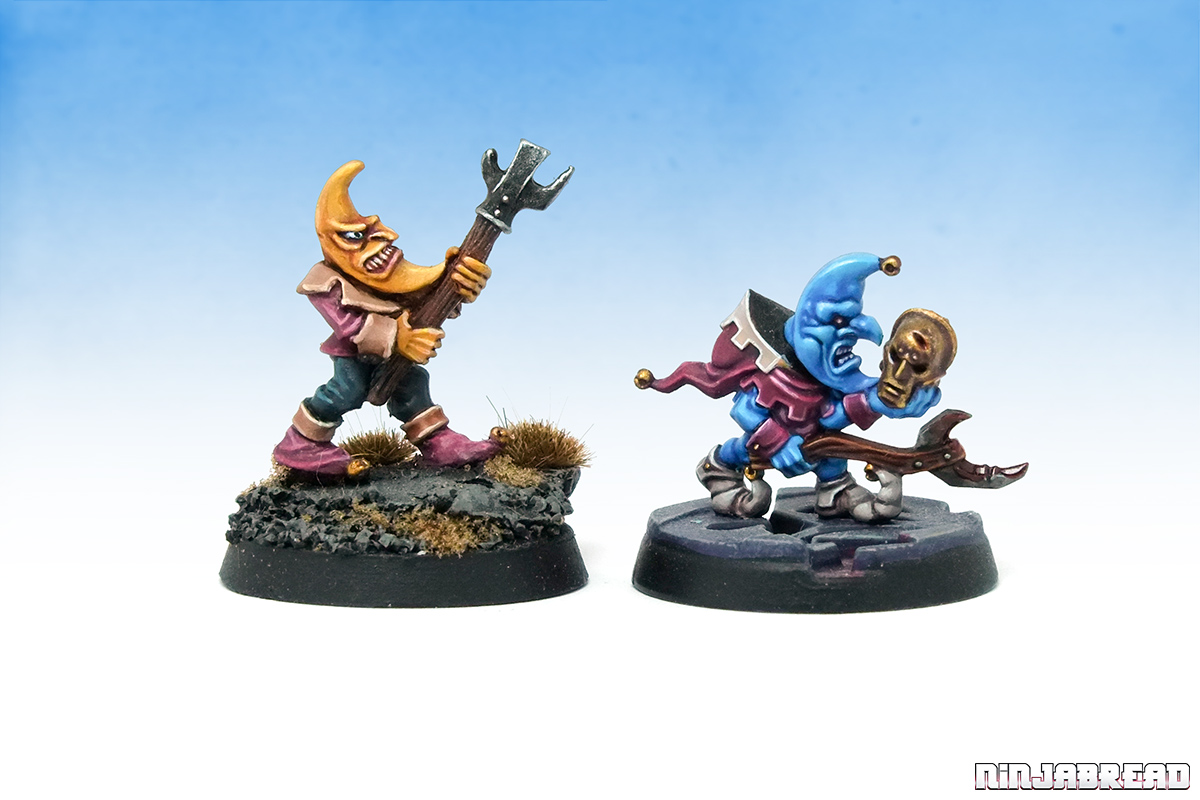 The CH5 Lune Familiar is an adorable moon-headed mook who was reborn in plastic complete with his original moon on a stick, tintinabulous jester shoes and scowling moonface.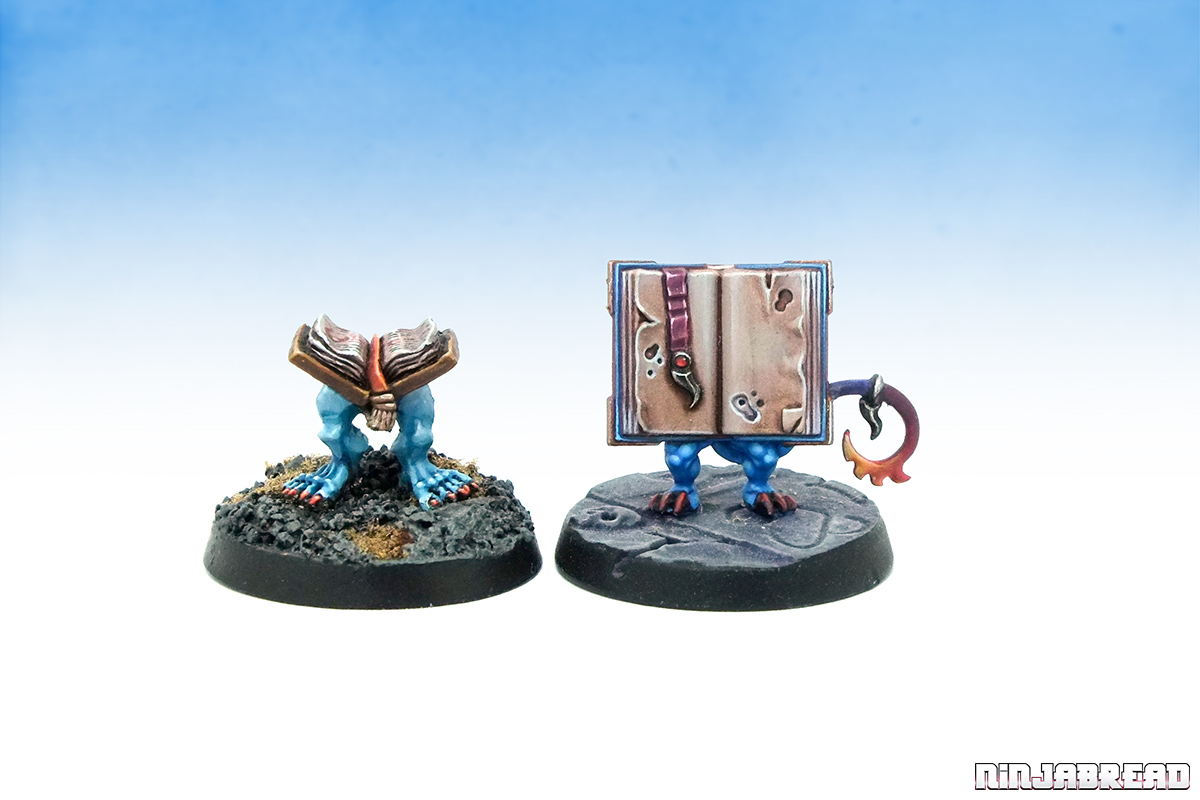 The CH5 Walking Book Familiar was a perennial favourite of Warhammer players, popping up as a wizard's helper in Chaos and non-Chaos armies for years. I've not thought of anything high concept enough to paint freehand on the pages of the plastic version, so I've left them blank for now. Maybe I will leave it blank forever and claim it's an unwritten journal.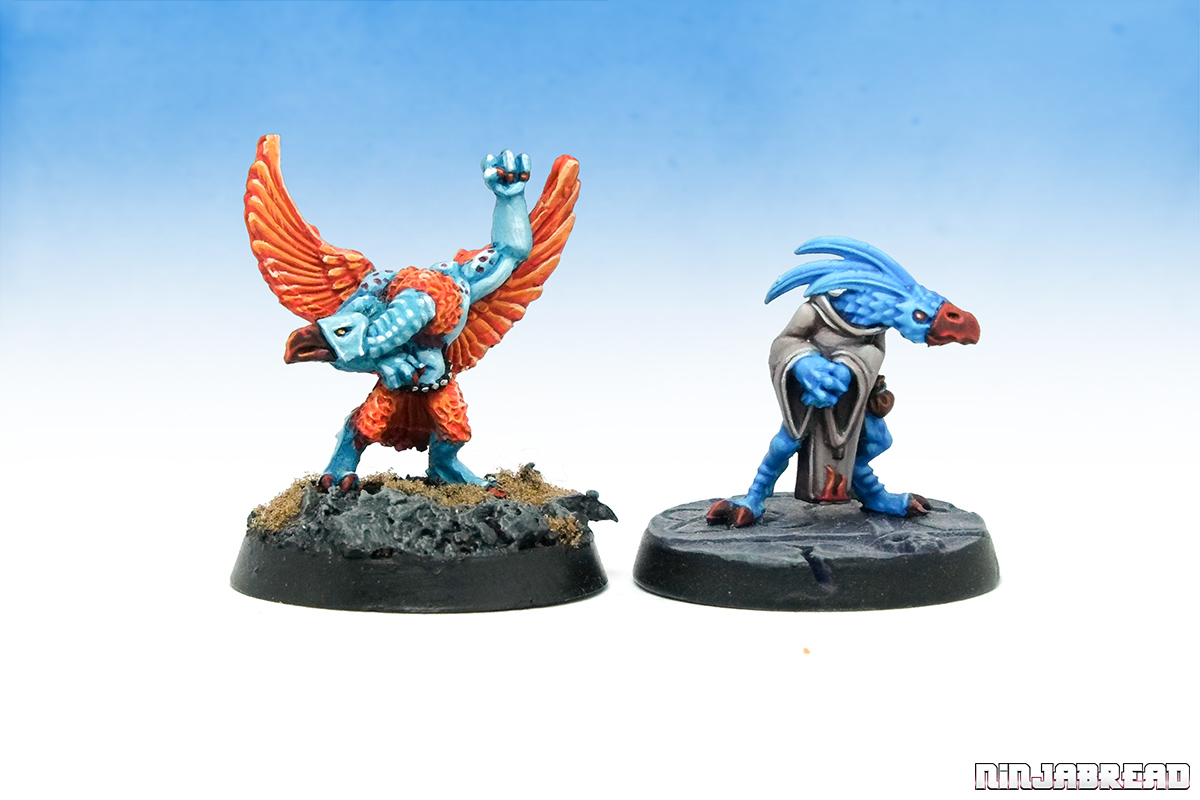 The small Lord of Change (Lord of Small Change?) was probably originally sculpted as a 6mm Epic Greater Demon miniature, but rolled into the CH5 Chaos Familiar range for the 1991 Citadel Catalogue Section 2. I've painted mine in orange and turquoise to match my 28mm Greater Demon. The new plastic version takes the mini Greater Demon vibe even further, having been written up in the background as a mischievous sprite with the delusion he's an actual Lord of Change.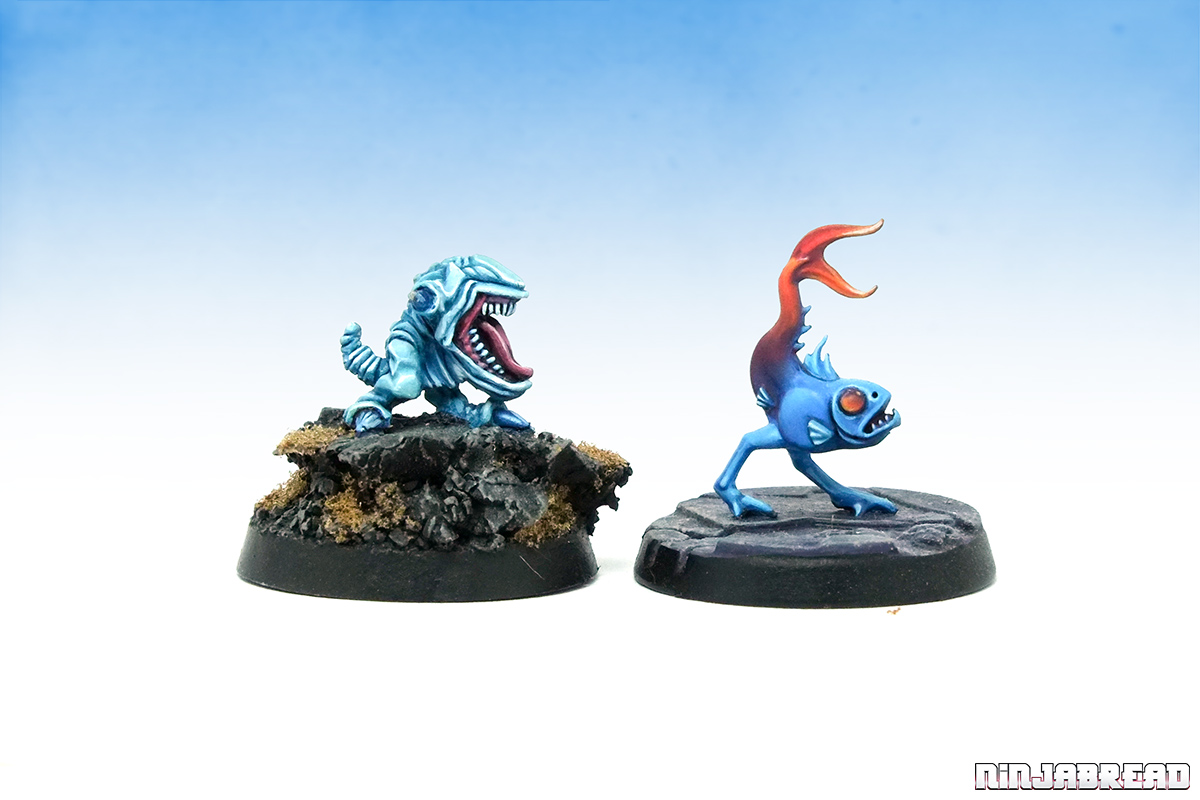 The fourth and final Silver Tower familiar, Slop, is a subtly different kettle of fish to the others – inspired not by a CH5 Chaos Familiar miniature but by Mordheim's leitmotif of mutant fish artwork or old Ian Miller illustrations. I've painted the plastic Slop's the tail with a Rainbow fade to match Blot.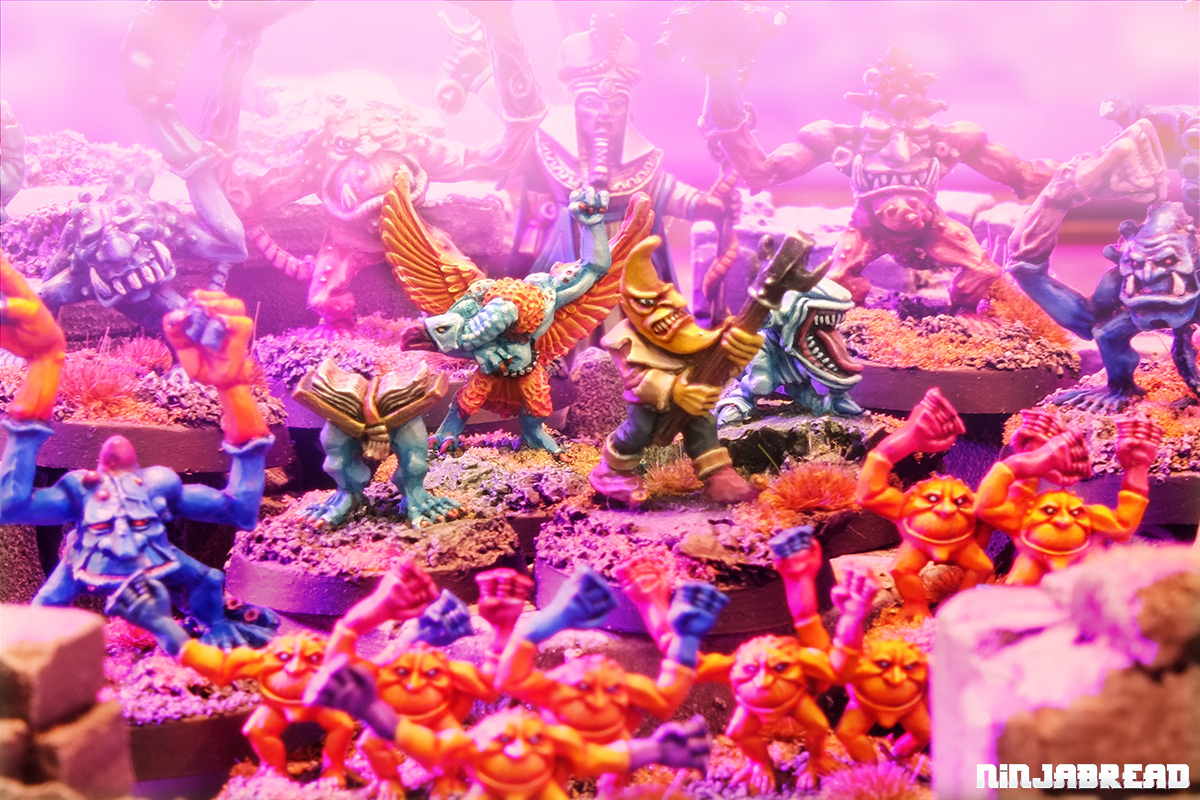 That's another adversary group ready for Silver Tower. You can see Brimstone Horrors here, Light Wizards here, Light Acolytes here. Tzaangor here and Deathrunners here. Time to start work on the next of the nineties nasties.

Ninjabread out!