Choose Your Own Adventurers #11: Indiana Jones, Xenoarchaeologist

Warhammer 40,000 and archaeology.  My two hobbies melded together.  There's not been this much combination of leisure pursuits since the notorious Inquisitor Bingedrink.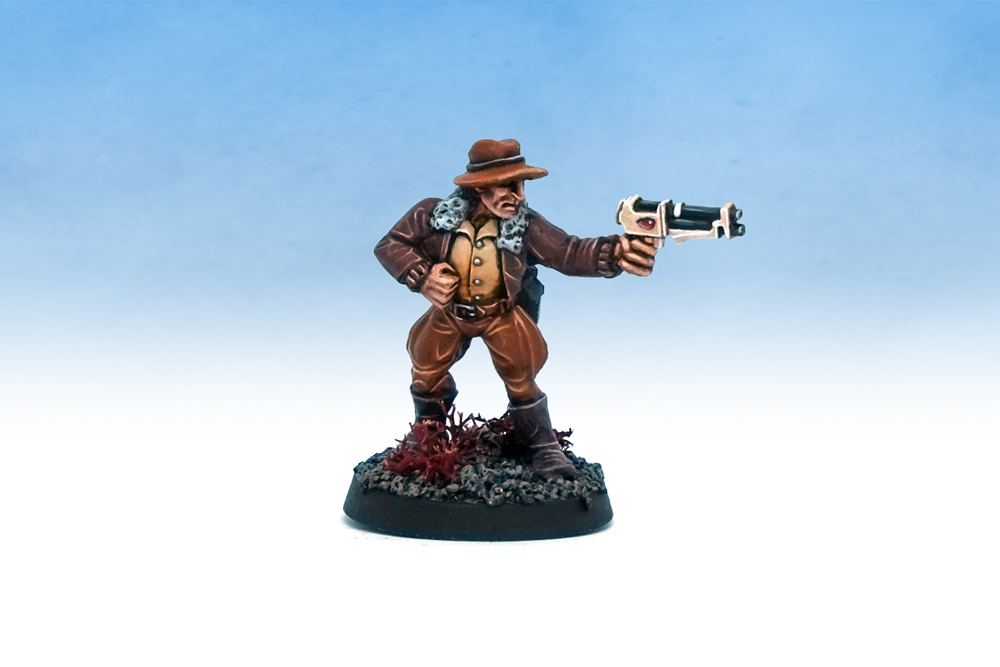 "1988 Rogue Trader Citadel miniature?  That belongs in a museum."
You might wonder what Indy is doing in the forty-first millennium, but seems Games Workshop had a serious thing for the archeologist producing not one but THREE homages to the character.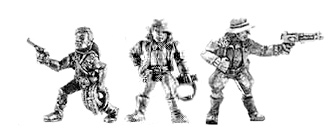 Left to right:  "Idaho Smith" from the Gothic Horror range;  "Archaeologist" from the Talisman Timescape expansion; and "Bandit" from the Rogue Trader Adventurers range.
I decided to paint this figure straight up as Indy rather than do any clever reimagining.  Painting him in a grimdark scheme is something axiom or sho3box may attempt (good luck lads).  The only thing actually placing this miniature in the forty-millennium is the Eldar laspistol.  (At least I assume it's an Eldar design, as it appears exclusively on the Eldar range, though oddly it pops up again in the Adventurers range on the Punk.)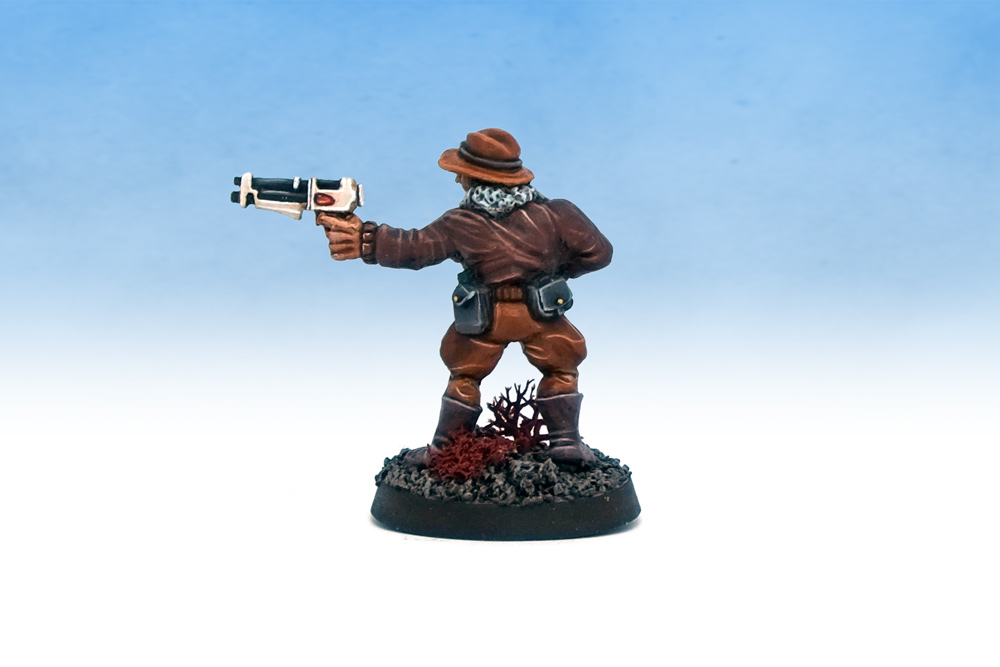 I'd like to get some more displaced 20th century archaeologists to accompany Indy on his field trips.  The Citadel Gothic Horror range has both a Vicar and a Reverend that would work well as antiquarians, and a couple of Kathleen Kenyon lookalikes.   The possibilities are endless when you're hunting for something as mundane as a civilian in slightly muddy clothing.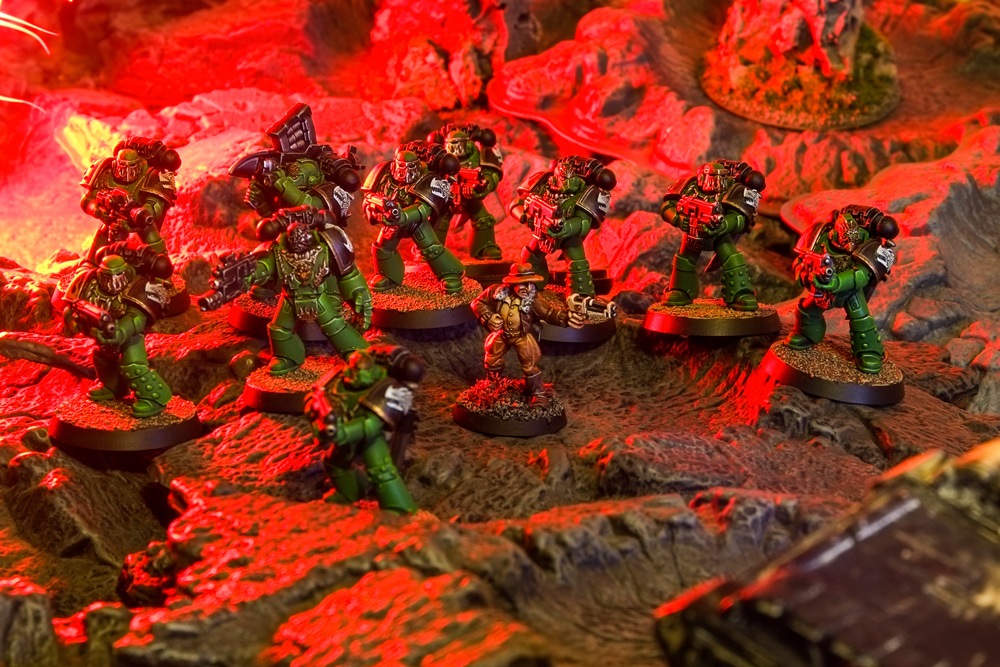 Indiana Jones and the Last Crusade.
Indiana Jones and the Great Crusade.
The Chaos Temple
All this recent blogging and photography has highlighted the main terrain I have is cardboard Space Crusade pieces.  To remedy this I picked through my storage crates and unearthed a polystyrene Chaos temple.  Teenage Curis went through a Slaanesh phase and badly repainted the flagged flooring in a veiny purple marble.  It looked awful and was hidden away for decades.  I borrowed insipration and techniques from cheetor's recent Age of Sigmar pieces.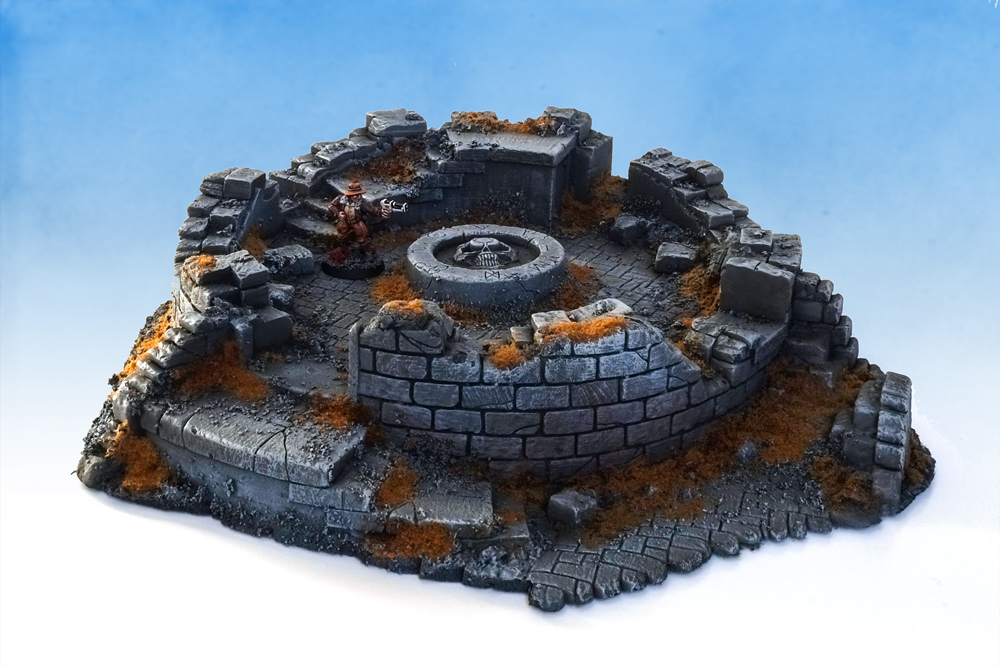 Stone Temple Bandit.
The result is fairly plain, and I feel I need to pick out the odd brick in different colours – but it was gloriously quick to spray and drybrush.  Most of the work was adding extra sand and rubble texture to cover the old factory-applied bright green static grass and damaged areas.  It's given me the confidence to tackle more terrain, perhaps the Battle Masters tower next.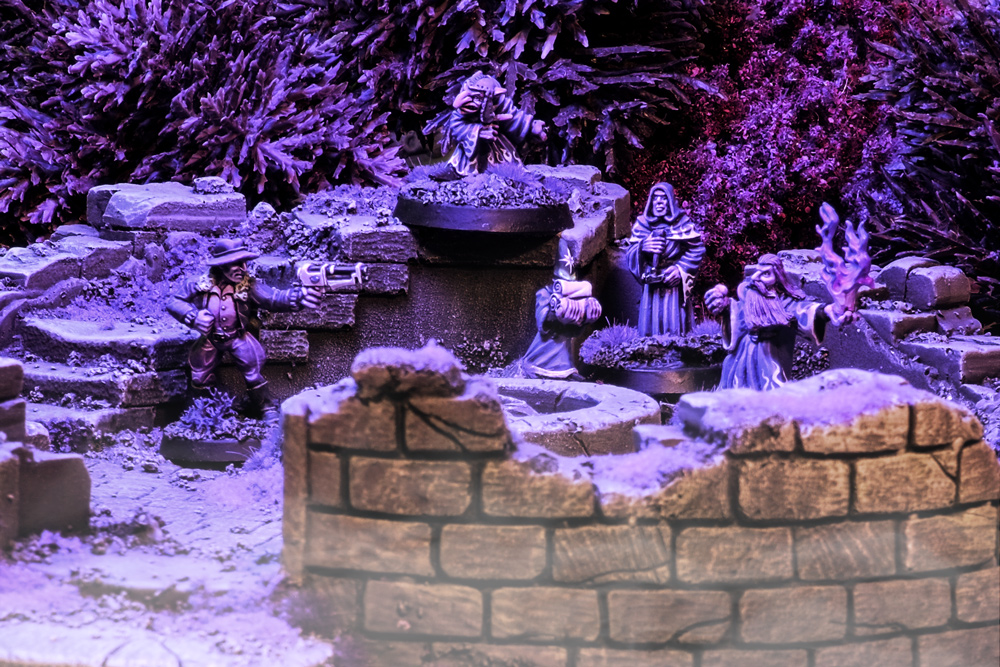 Indiana Jones and the Temple of Doom.
Episode 12 of this Rogue Trader group project will be brought to you you by sho3box. Here's links to the previous episodes:
CYAO Episode 10 – Rico "Snakey" Vitovitch, Pilot for Hire (axiom)
CYAO Episode 9 – Erica James, Sister of Silence (sho3box)
CYOA Episode 8 – Steppenwolf, Mutant Outlander (Curis)
CYAO Episode 7 – Cinereal Jeannie, Inquisitional Psyker (axiom)
CYAO Episode 6 – Joan Grace, Null Maiden (sho3box)
CYOA Episode 5 – Nebuli Tsar, Ventolin Pirate (Curis)
CYAO Episode 4 – Short Jern Silvo, Ratling Cook (axiom)
CYAO Episode 3 – Garnier Wangst, Eldar Trader (sho3box)
CYOA Episode 2 – Paradox Zeeman, Pirate Captain (Curis)
CYOA Episode 1 – Obi-Wan Sherlock Clousseau, Inquisitor (axiom)
Dirty advertisement. Ninjabread continues below.